Regular price
Sale price
$38.00 USD
Unit price
per
Sale
Sold out
Deeply Soothing and Moisturizing Serum
 Our Drench & Quench MOISTURE SERUM deeply soothes your skin and brings it new life, yet is surprisingly lightweight. A synergistic blend of organically distilled Orange Blossom hydrosol, Fermented Rice Water and Organic Aloe Vera, comes together with antioxidant rich minerals from the sea (Wakame Cell Extract), and a mix of Pomegranate and Orange Flower Extracts, all to nourish and tighten the skin. Then we added a light dose of Squalane Oil (from organic olives), Organic Golden Jojoba Oil, and organically sourced Papaya Oil, all of which are deeply moisturizing and powerful age defying elements. But the true superstar in this lightweight serum is Beta-Glucan, which is paired with its shinning co-stars, Phytoceramides and Organic Rooibos Tea Extract.
Beta-Glucan is both a moisturizer and a humectant that boosts hydration, while Phytoceramides hydrate and heal your skins moisture barrier. Including ceramides in a formula with other hydrators supercharges their ability to keep your skin plump, hydrated, and juicy. While Organic Rooibos Tea, also known for its hydrating properties, delivers a potent dose of skin loving antioxidants. A truly unique serum, perfect both by itself or underneath our decadent Deep & Sleep NIGHT CREAM, our Drench and Quench MOISTURE SERUM is like nothing your skin has ever experienced before, and something it will never want to live without again! 
 1 fl oz | 30ml


Active/Key Ingredients

5% Beta-Glucan, 3% Phytoceramides, 2% Organic Rooibos Tea Extract

BETA-GLUCAN is the food grade soluble fiber found in the cell walls of yeast, and is heavily utilized in the medical community for the specific treatment of compromised skin and immune stimulation. Yeast Beta-Glucan has a lower molecular weight than other beta-glucans, which means it absorbs more readily and delivers more benefits. As a humectant and moisturizer, Beta-Glucan draws water to the top of the skin, boosts hydration, significantly improves skin barrier function, and reduces redness and irritation (1). It has also been proven to plump up skin from the inside out, effectively helping to treat fine lines and wrinkles and make skin feel more supple (2). Beta-Glucan has also been proven to stimulate collagen (3), which results in firmer, more radiant skin. Loss of collagen is recognized to be one of the main causes of skin aging, so anything that helps to stimulate its growth is essential for healthy vibrant skin.

PHYTOCERAMIDES are simply ceramides derived from plants. Ceramides quite literally hold our skin cells together and are often referred to as a "skin-identical" ingredient, mimicking our skins moisture barrier. Studies show (4) that ceramides in skincare improve hydration and decrease trans epidermal water loss (TEWL) significantly over 24 hours. TEWL refers to the amount of water that evaporates from the skin into the surrounding atmosphere, and left unchecked it can lead to dry, dehydrated skin. Luckily, ceramides help to replenish moisture that's been lost and regulate the process of evaporation. A clinical review (5) analyzed 41 different studies on topical use of ceramides, both natural and synthetic, (ours is natural and comes from rice plants, also referred to as Vegetable Ceramides), and found them to be very effective at increasing water retention, restoring barrier function, and restoring the lipid barrier's ability to attract, hold, and redistribute water.

Rooibos Tea has long been used in traditional South African medicine (6) for a vast array of skin conditions, from acne and eczema, to allergic reactions due to its anti-inflammatory and soothing properties. Rooibos Tea is packed with antioxidants and polyphenols (7), which combat oxidative stress and improve skin hydration, and may also help to reduce UV photo-damage and diminish pre-mature skin aging (8). It has also been proven to reduce wrinkles by 9.9% (9) when compared to other herbal flavonoids.

Directions

Directions: Apply 1-2 pumps (dime Size) to DAMP skin. Massage gently onto face, neck, and chest. Move immediately to next step while skin is still damp. Use TWICE a day. Suitable for all skin types.
Full Ingredient List

Ingredients: Citrus Aurantium (Orange Blossom) Hydrosol Water, Organic Aloe Barbadensis (Aloe Vera) Extract, Oryza Sativa (Rice) Seed Water, Saccharomyces (Yeast) Ferment, Purified Water, Beta Glucan, Glycerin, Squalane, Organic Golden Simmondsia Chinensis (Jojoba Oil), Carica Papaya Seed Oil, Glycerine, Glycosphinggolipids (Phytoceramides), Betaine, Propanediol, Punica Granatum (Pomegranate) Extract, Citrus Aurantium Dulcis (Orange) Flower Extract, Organic Oryza Sativa (Rice) Extract, Organic Calendula Officinalis Flower Extract, Organic Aspalathus Linearis (Rooibos Tea) Extract, Undaria Pinnatifida (Wakame Seaweed) Cell Culture Extract, Cetearyl Olivate, Sorbitan Olivate, Lactobacillus (Probiotic) Ferment, Organic Helianthus Annuus (Sunflower) Seed Oil, Organic Lecithin, Mixed Tocopherol (Vitamin E), Soybean Oil, Sodium Lactate, Isoamyl Laurate, Ethylhexyl Glycerin, Potassium Sorbate, Lactobacillus (Probiotic), Acacia Senegal Gum, Xanthan Gum, Sodium Phytate, Leuconostoc/Radish Root Ferment Filtrate, Cocos Nucifera (Coconut) Fruit Extract, , Gluconolactone, Sodium Benzoate, Organic Cucurbita Pepo (Pumpkin) Seed Oil, Organic Papain (Papaya),Citric Acid.
Pro-Tips

Always apply your moisturizing products to DAMP skin. It drives the moisture in, and the moisturizing product you are applying over the damp skin helps to seal that hydration in. It also allows the product spread more readily and evenly, so you will actually need to use less product!

Each 1oz bottle has approximately 230 pumps. At 1 1/2 pumps twice a day, it should last a bout 2.5 months.
PH | Sources

PH 5.4-5.6

Sources:
1)https://onlinelibrary.wiley.com/doi/10.1111/j.1468-2494.2008.00470.x
2)https://onlinelibrary.wiley.com/doi/10.1111/j.1463-1318.2005.00268_3.x
3)https://pubmed.ncbi.nlm.nih.gov/12100377/
4)https://www.ncbi.nlm.nih.gov/pmc/articles/PMC6197824/
5)https://pubmed.ncbi.nlm.nih.gov/34596254/
6)https://www.ncbi.nlm.nih.gov/pmc/articles/PMC3866779/
7)https://onlinelibrary.wiley.com/doi/abs/10.1002/ptr.1992
8)https://onlinelibrary.wiley.com/doi/10.1111/ics.12218
9)https://pubmed.ncbi.nlm.nih.gov/20412217/
Share
View full details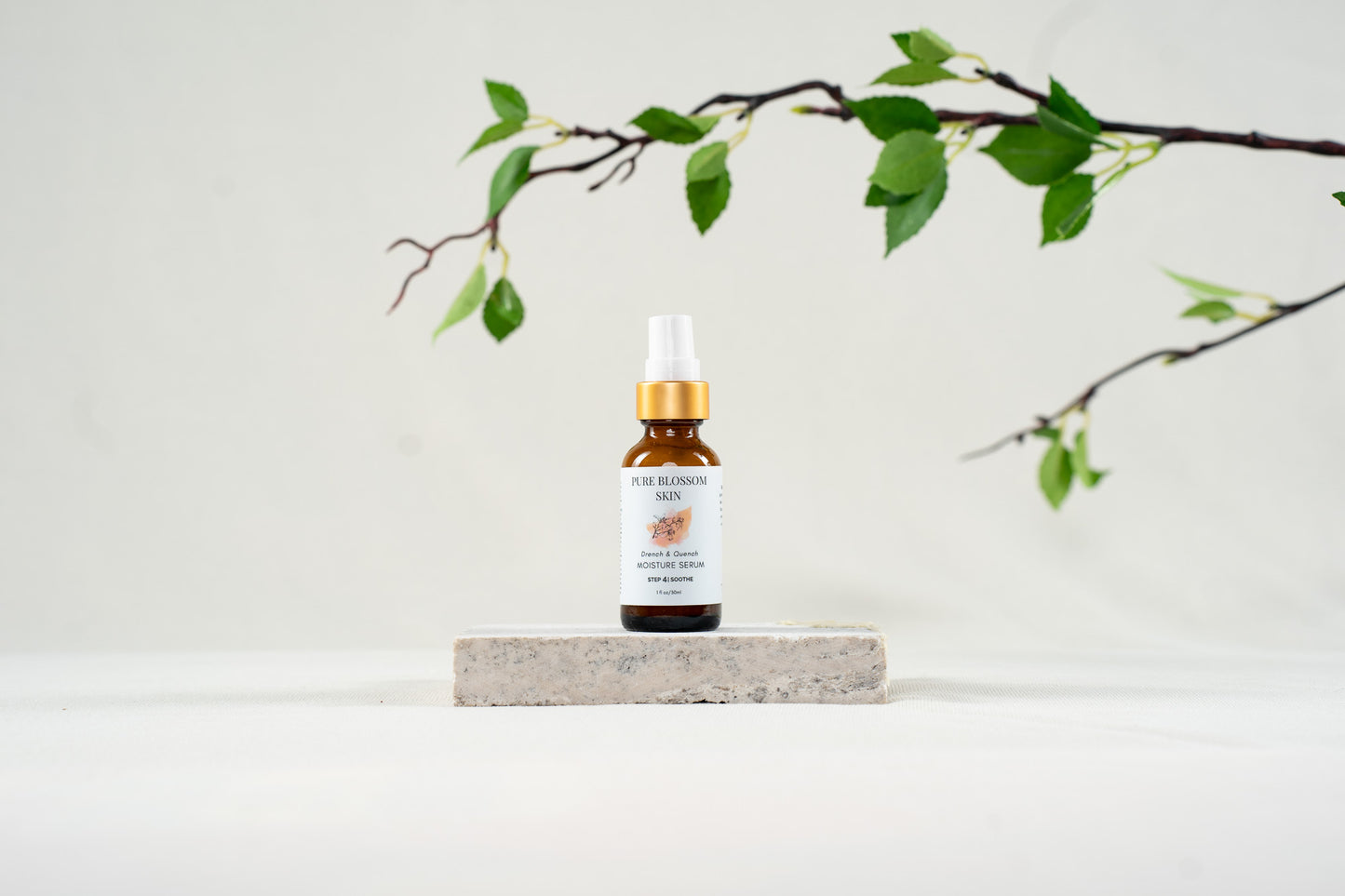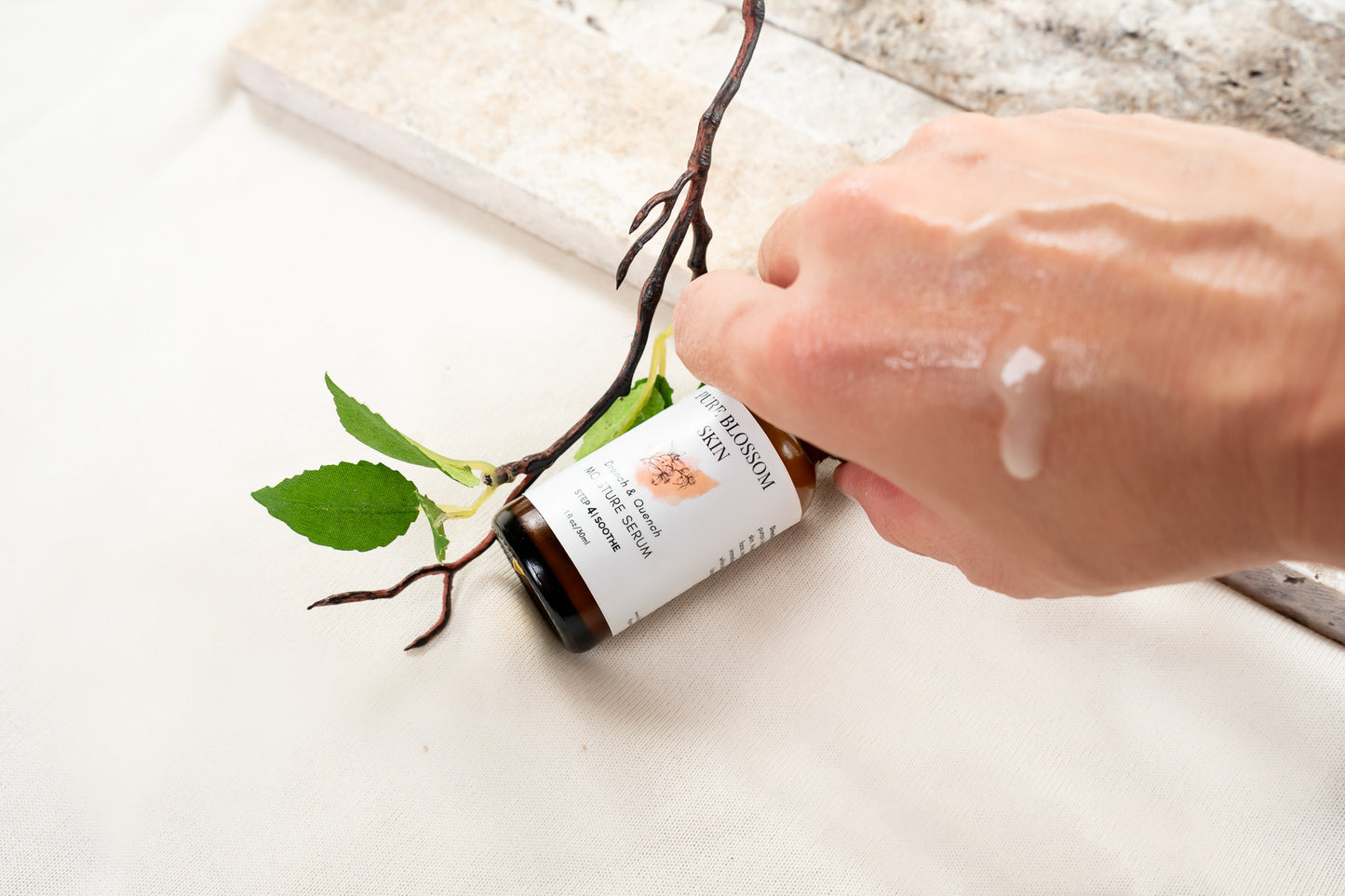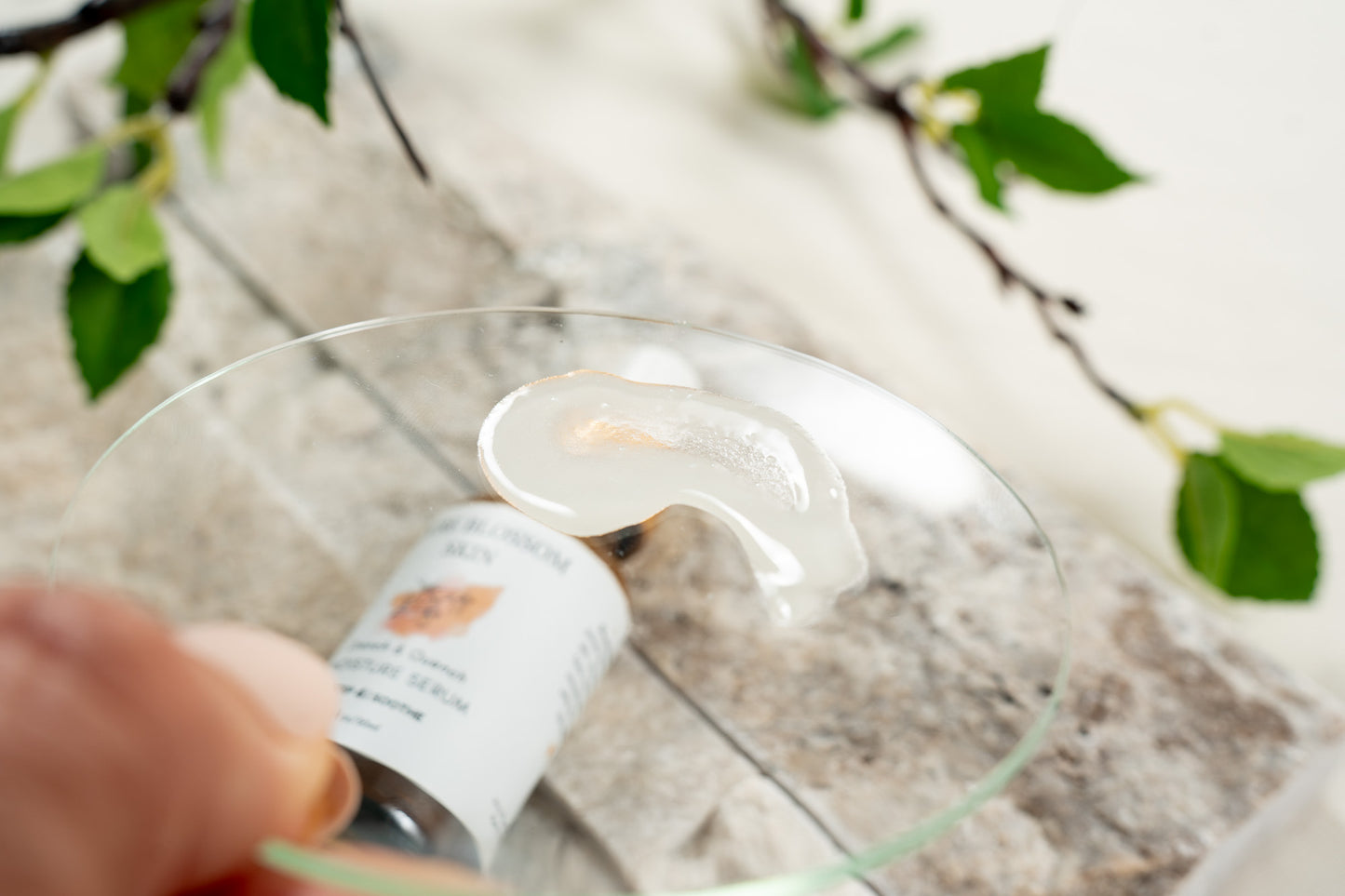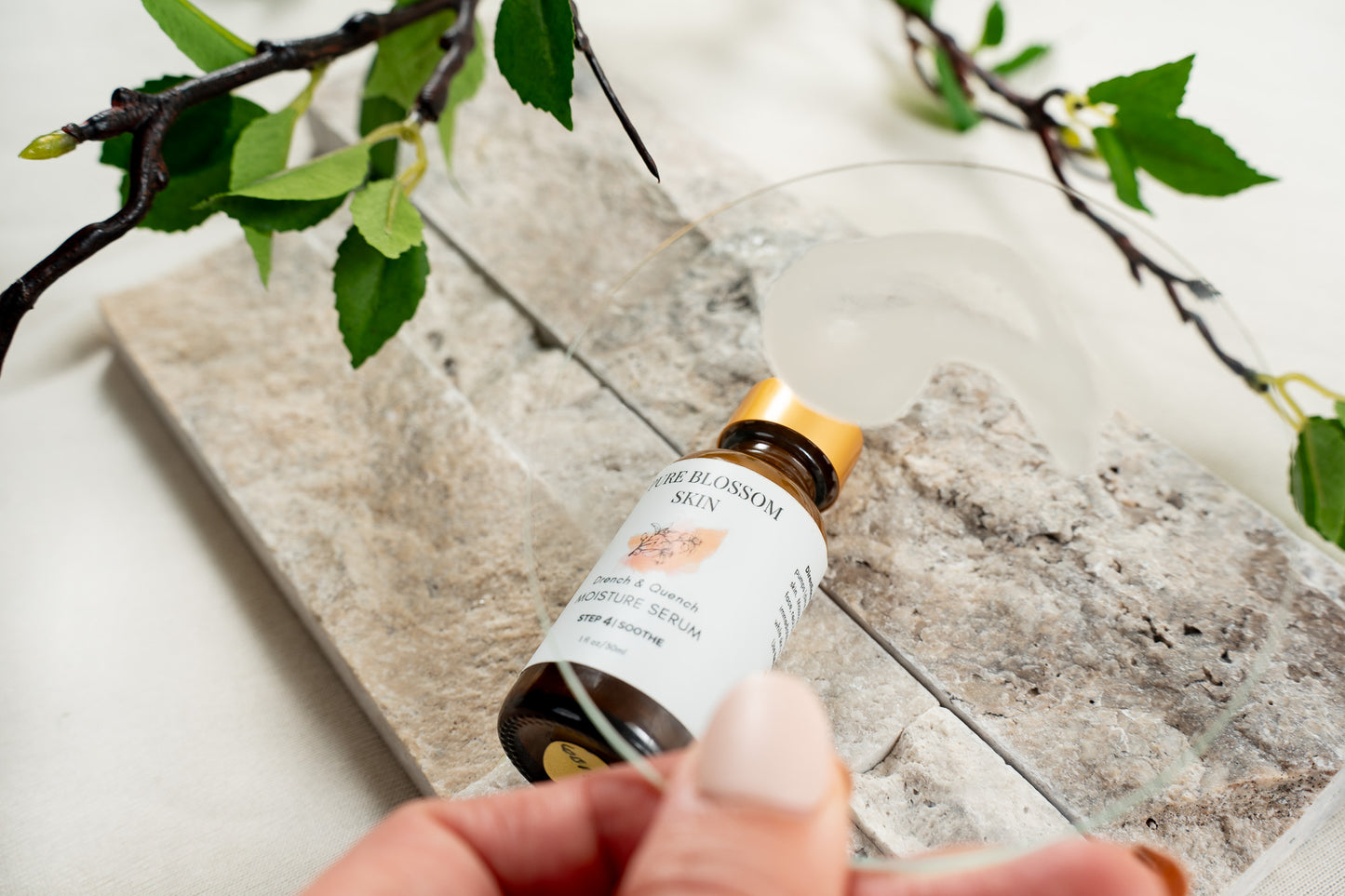 Bury me with this serum
I LOVE this moisture serum!!! Before using Pure Blossom, I struggled with dry skin. This moisture serum has been a game changer for my skin. I use it morning and night and my skin feels SO moisturized! No more dry patches for me!!!
So glad that dry patches are a thing of the past, and that our Drench & Quench MOISTURE SERUM is making such a difference for your skin. Thanks for the love!!
Drench and Quench is my favorite moisturizer it is so soft and a little goes a long way. I have very sensitive skin and this is the first moisturizer to actually help my skin without being too heavy or irritate my skin.
So good to know that our Drench & Quench MOISTURIZING SERUM is helping your sensitive skin, and yes, a little does go a long way. Cheers to highly effective and concentrated skincare that works! Thanks for taking the time to let us know!
Everything I've ever been missing in life!!
This moisture serum might be the greatest product I have EVER come across- it brightened and nourished my skin, it walked my dog, it paid my mortgage… okay maybe it only did one of those things but OH MY GOODNESS is this stuff incredible. It is the step I look forward to most and I swear I can FEEL it quenching the thirst of my skin!! Smells so great, and doesn't leave you feeling sticky or greasy. It is simply wonderful!!
Wow! We'll have what she's having. We are seriously so excited that you are so excited about our Drench & Quench MOISTURE SERUM, and honestly, we think its pretty amazing too. Here's to beautiful, vibrant, moisturized skin!
Silky smooth!
Love this moisturizer for its silkiness, lightweight feel, and all day moisture. I only have to use less than a dime size amount on my face and it lasts until I wash my face. I've never had to re-apply, it's great.
Lightweight silkiness and all day moisture is definitely what you can count on when using our Drench & Quench MOISTURE SERUM. The reason you only need very little and never need to re-apply is because it is so highly concentrated and packed with goodness. So happy your skin is happy!
Moisture serum
This moisture serum is just what my aging skin was seeking! A little goes a long way to making my skin younger looking and the smoothness allows for a better and more even application of my foundation.
Seek and ye shall find! So glad your skin found our Drench & Quench MOISTURE SERUM, and yes, a little does go a long way. Thank you so much for sharing!
Let customers speak for us