Regular price
Sale price
$42.00 USD
Unit price
per
Sale
Sold out
Triple Power Vitamin C Serum
The product that inspired it all, the second step in our signature series, our highly effective Brighten & Tighten VITAMIN C SERUM. Our serum treatment features not just one, but three forms of Vitamin C (L-Ascorbic Acid, Magnesium Ascorbyl Phosphate, & Tetrahexyldecyl Ascorbate), and combines them with the mighty brightening agent, Tranexamic Acid. By combining these two heavy hitting actives, we have maximized the potency of both ingredients, allowing our 10% Vitamin C serum to deliver the same results as a higher concentrated 20% Vitamin C serum,  but without the irritation. The two additional forms of vitamin C- Magnesium Ascorbyl Phosphate (MAP) and Tetrahexyldecyl Ascorbate (Vitamin C Ester Oil)- are known as the most gentle forms of Vitamin C, and help to both brighten and reduce any possibility of irritation. 
The proven benefits of topical Vitamin C are many. It stimulates the production of collagen and elastin, reduces the appearance of wrinkles, brightens and reduces dark spots, and fights against free radicals (toxins). L-Abscorbic Acid is the undisputed  champion of all the forms of Vitamin C, which makes it worth putting up with its temperamental ways, as it doesn't like heat, light or air once it is mixed with water, and oxidizes quickly.
Glutathione, Acetyl Zingerone, Vitamin E and Ferulic Acid have also been included to our serum to  help stabilize and assist the Vitamin C, and Methysulfonylmethane (MSM), a natural mineral, to help to keep skin healthy and strong and to guard against premature aging and skin damage. These potent antioxidants and minerals are then delivered to your skin in a beautiful bath of organically distilled Orange Blossom hydrosol. Our Brighten & Tighten VITAMIN C SERUM is a true powerhouse treatment that delivers results you can actually notice and see, so you can skip the filters and show off your radiant skin for real!
0.50 fl oz / 15ml
Active/Key Ingredients

10% L-Ascorbic Acid, 8% MSM, 5% Magnesium Ascorbyl Phosphate, 5% Glutathione, 2% Tranexamic Acid, 1% Vitamin E, 0.50% Tetrahexyldecyl Ascorbate, 0.50% Ferulic Acid

L-ASCORBIC ACID is the most studied and effective topical form of Vitamin C (1). It promotes collagen production, minimizes fine lines and wrinkles, helps fade hyperpigmentation and discoloration, brightens and evens skin tone, and helps fight free radicals (toxins). Most Dermatologists agree (2), it is one of the most important, if not the most important, anti-aging antioxidants that you can use on your skin. It increases collagen synthesis, stabilizes collagen fibers, and decreases collagen degradation, resulting in brighter, tighter skin with a more improved tone and texture. It also helps to treat and prevent ultraviolet (UV) induced photo-damage and works to synergistically increase the efficacy of sunscreen (3).


TRANEXAMIC ACID is a powerful brightening agent known for reducing dark spots, hyperpigmentation, acne scars and melasma (4), and is considered safe for all skin types. It works to actively improve existing skin discolorations and helps prevent the formation of new ones. Studies (5) have shown that it can be just as effective as hydroquinone at improving discolorations, but without any of the negative side effects. You will need to be patient, though! All studies have indicated that the best results are seen after 8-12 weeks of consistent use.


Directions

Directions: Apply 1-2 pumps to face, neck, and chest. Gently massage in until COMPLETELY ABSORBED, ideally immediately after your Bare & Prepare TONER has dried. Wait 2-3 minutes before moving on to next step (so it does not get diluted by the next product). Use ONCE daily. Suitable for all skin types.

*To preserve the effectiveness of your serum, minimize exposure to air, light, and heat. We have the air and light covered with our UV protected airless bottle, and our gold foil light blocking label. The heat, however, is all on you. We HIGHLY recommend keeping your serum in the REFRIGERATOR, or at the very least, in a COOL dark place (but really, the fridge is the best place to protect and prolong your investment).

*L-Ascorbic Acid will unavoidably oxidize and therefore only has a shelf life of about 3 MONTHS. Our serum is mixed fresh the day before it ships, but you should still be mindful of oxidation. Any range of clear to pale yellow is normal. If it turns dark orange or brown, it has oxidized and should be discarded. Following our recommendation to refrigerate is your best bet for extending the life of your serum.
Full Ingredient List

Ingredients: Citrus Aurantium (Orange Blossom) Hydrosol Water, Purified Water, L-Ascorbic Acid (Vitamin C), Dimethyl Sulfone (MSM), Propanediol, Magnesium Ascorbyl Phosphate (Vitamin C), Lactobacillus/Portulaca Oleracea Ferment Extract (Glutathione), Isoamyl Laurate, Tranexamic Acid, Lactobacillus (Probiotic) Ferment, Ethylhexyl Glycerin, Potassium Sorbate, Sodium Lactate, Acetyl Zingerone, Mixed Tocopherol (Vitamin E), Soybean Oil, Acacia Senegal Gum, Tetrahexyldecyl Ascorbate (Vitamin C), Ferulic Acid, Xanthan Gum, Sodium Phytate, Lactobacillus, Cocos Nucifera (Coconut) Fruit Extract, Citric Acid.
Pro-Tips

Consider keeping ALL of your Pure Blossom Skin products in your refrigerator or in a cosmetic fridge- you will love it! You will become completely addicted to the feel of using Cool, fresh skincare every day. It's the ultimate indulgent self-care feeling, with no extra time involved.

Since the airless pump is opaque, write the date on the bottom with a permanent marker when you receive it. This will help you remember when to re-order so you are never in danger of running out.

The airless pump disperses approximately 120 pumps total, so it should last between 2-4 months depending how much you use at a time. (We think 1 1/2 pumps is the perfect amount!)
PH | Sources

PH: 3.2-3.4

Sources
1)https://www.ncbi.nlm.nih.gov/pmc/articles/PMC5605218/
2)https://womansliving.com/anti-aging/what-antiaging-products-do- dermatologists-recommend/
3)https://pubmed.ncbi.nlm.nih.gov/18603326/
4)https://onlinelibrary.wiley.com/doi/10.1111/ced.14115
5)https://www.ncbi.nlm.nih.gov/pmc/articles/PMC557474/

Share
View full details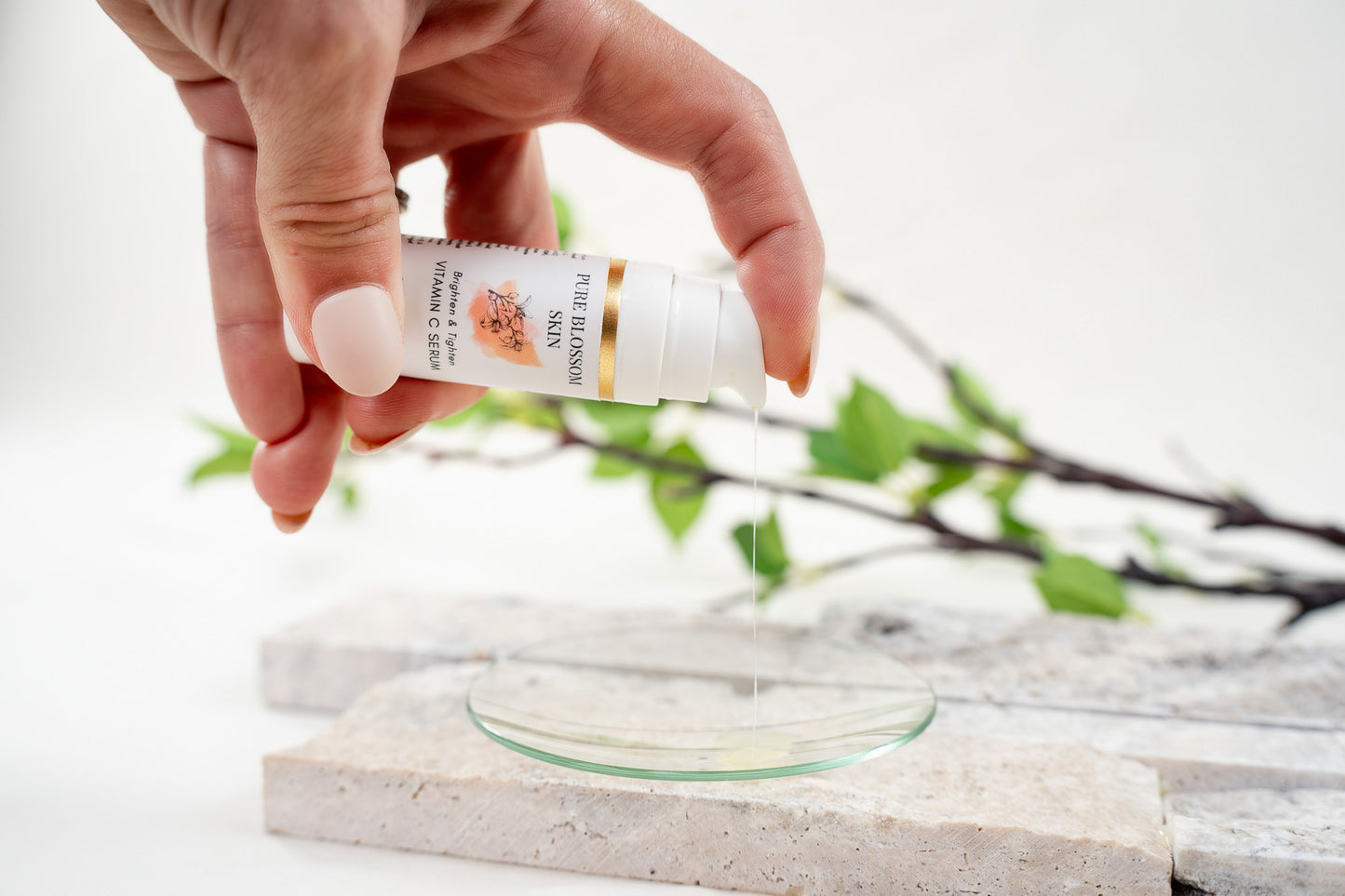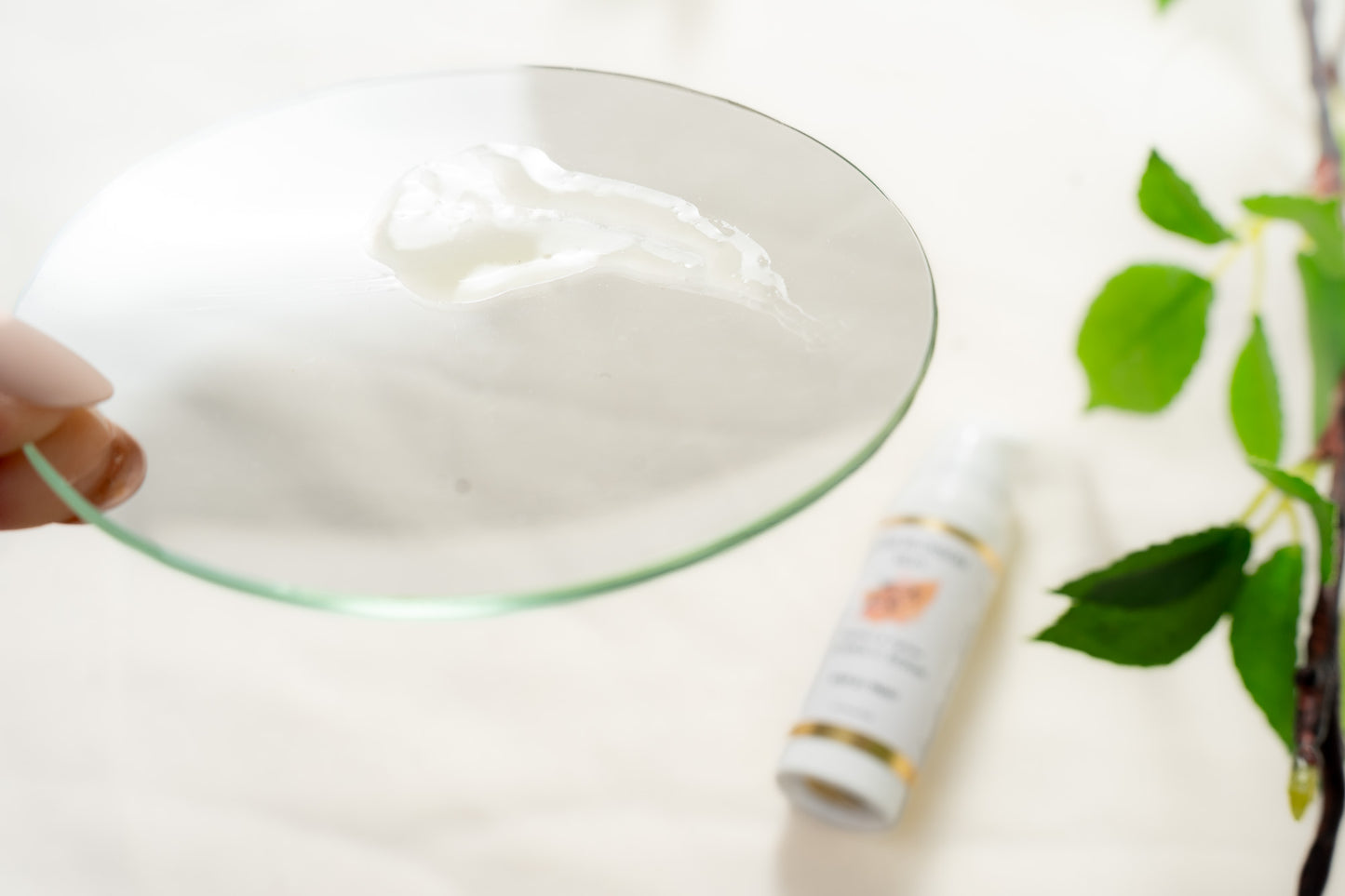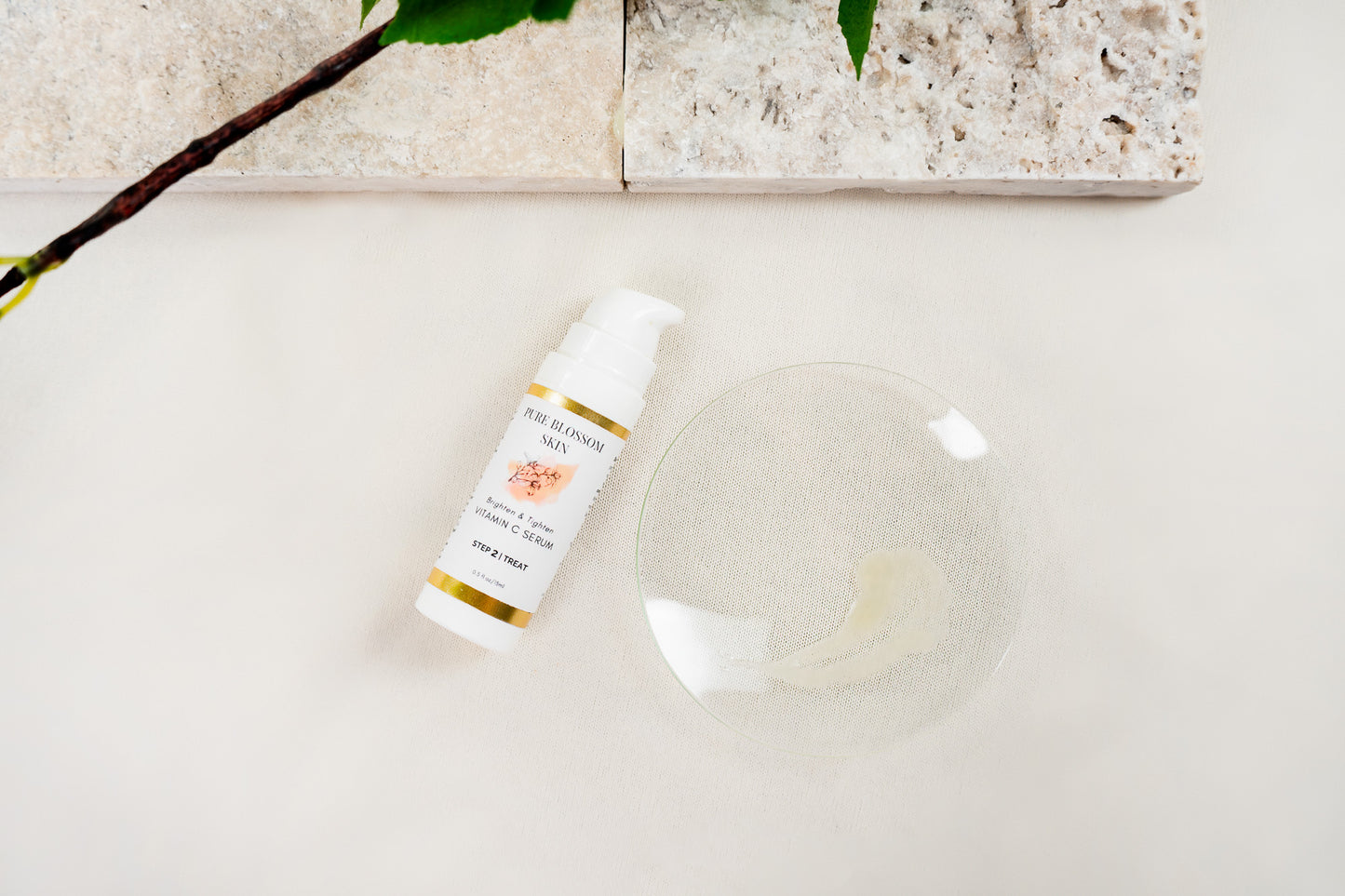 Really enjoying a trial of this entire line of products. I am 80 yrs old, so my expectations are different. Loving the way my skin feels. Lots of skin shedding. Must be good, yes?
We are thrilled you are loving the way your skin feels, and yes shedding is a good thing - as long as your skin continues to feel moisturized during the process- that's the delicate balance you want to achieve when initiating new cell turnover . Shedding is normal when introducing new actives, such as our amazing Brighten & Tighten VITAMIN C SERUM, and it means it is working to speed up your skins cell turnover. . Bear in mind that more experienced skin can take up to 80 days or so to cycle, so be patient. We believe that everyone can have healthy, vibrant glowing skin, no matter how many years they have been blessed enough to experience, and here's to celebrating many more of yours!
Absolutely Amazing
I recently tried several Pure Blossom Skin products including the Brighten & Tighten Vitamin C Serum, and I was completely shocked by the wonderful results. My under eye area is what I consider my problem zone and am amazed to see and feel a positive change in my skin almost immediately. I am now obsessed with Pure Blossom Skin and grateful to find a healthy, pure-ingredients and effective skin care line, thank you from your new devoted customer.
Hello devoted new customer, we are so happy you are here! This is one obsession we can get behind, and we are grateful you are seeing and feeling such amazing changes to your skin so quickly, and we are so very grateful you took the time to share! xx
MIRACLE SERUM
I love this vitamin c serum!!! I keep my serum in the fridge and it always feels sooo good when I put it on! Makes my skin SO glow!!! As someone who has always struggled with dull and dry skin, I cannot tell you how much Pure Blossom Skin has changed my skin game!!
Yay! We are all for changing your skin game and getting your glow on. Thank you for letting us know how well our products are working for you, and that our Brighten and Tighten VITAMIN C SERUM is hitting it out of the park!!
Brighten and tighten vitamin C serum is one of my favorite steps in my daily routine I love this product, my skin feels so soft. It looks so glowy and healthy. I Would highly recommend this product.
We love that you are loving the results from our Brighten & Tighten VITAMIN C SERUM! Glowy, healthy skin is the name of the game! Thank you!!
Where It All Started….
This was the product that made we want to try the whole system. I have been searching for a good Vitamin C product after reading about its benefits for a while. This is the absolute perfect consistency- not too dry, not too sticky and just feels SO refreshing on the skin!! The most genius part is the airless pump bottle so it keeps the Vitamin C fresher longer- I put all of my steps in a cosmetic mini fridge (I got a very inexpensive one from Walmart) and it has been a total game changer!
Yay! We are so glad that you love our Brighten & Tighten VITAMIN C SERUM, and that you recognize that it's the holy grail treatment for bright, even, glowing skin--and that you are keeping it cool. Real cool! xx
Let customers speak for us