Regular price
Sale price
$34.00 USD
Unit price
per
Sale
Sold out
Rich and Nourishing Night Cream
Don't let the name fool you, our Deep & Sleep NIGHT CREAM, isn't just for nights.  Rich and decadent, filled with powerful age defying ingredients that work to beautifully saturate and repair your skin overnight, but it can also work its magic during the day. Just a wee bit is all you need to deeply moisturize and rejuvenate your skin. Our super concentrated NIGHT CREAM is a divine base of organically sourced hydrosols and oils, enriched with  Phytoceramides, and the super skin regenerators, Organic Gotu Kola, and Palmitoyl Pentapeptide-3.
Both Gotu Kola and Palmitoyl Pentapeptide-3 have been proven to increase collagen and elasticity, reduce inflammation, heal wounds, and increase skin hydration, making them both powerful and intensely soothing at the same time. Organically distilled  Orange Blossom Hydrosol, Pure Coconut Water, and Organic Aloe Vera are blended with Organic Meadowfoam Seed Oil, Squalane Oil (from Organic Olives), and Organic Golden Jojoba Oil, all to create a deeply rich and nourishing cream which delivers our regenerative heavy hitters on a luscious platter.
Day or night, our Deep & Sleep NIGHT CREAM is the decadent and rich blanket of moisture that your dry skin has been craving. Your skin will thank you, as it will feel deeply moisturized and not the least bit greasy. True perfection!
1 fl oz / 30ml

Active/Key Ingredients

4% Phytoceramides, 2% Organic Gotu Kola, 2% Palmitoyl Pentapeptide-3

PHYTOCERAMIDES are simply ceramides derived from plants. Ceramides quite literally hold our skin cells together and are often referred to as a "skin-identical" ingredient, mimicking our skins moisture barrier. Studies show (1) that ceramides in skincare improve hydration and decrease trans epidermal water loss (TEWL) significantly over 24 hours. TEWL refers to the amount of water that evaporates from the skin into the surrounding atmosphere, and left unchecked it can lead to dry, dehydrated skin. Luckily, ceramides help to replenish moisture that's been lost and regulate the process of evaporation. A clinical review (2) analyzed 41 different studies on topical use of ceramides, both natural and synthetic, (ours is natural and comes from rice plants, also referred to as Vegetable Ceramides), and found them to be very effective at increasing water retention, restoring barrier function, and restoring the lipid barrier's ability to attract, hold, and redistribute water.

GOTU KOLA(Centella asiatica), is a small plant that has been used for centuries in traditional Chinese and Ayurveda medicine. Known for its wound healing and anti- inflammatory properties (3), Gotu Kola has also been proven to increase collagen (4) and improve the tensile thickness of skin (5). Offering a significant improvement in firmness, elasticity and skin hydration, this therapeutic wonder is nature's fountain of youth.

PALMITOYL PENTAPEPTIDE-3 (also known as Matrixyl, or Palmitoyl Pentapeptide 4), is a peptide known for its mighty anti-aging capabilities. It is a lipophilic modified peptide that was developed to advance wound healing, stimulate collagen and elastin, and has been scientifically proven to do even more (6). It also helps to reduce fine lines and wrinkles that are caused by repeated facial movements, helps to rejuvenate maturing skin (7), and increases hyaluronic acid synthesis in the skin.
Directions

Directions: Apply tiny dab for AM (optional) & pea size amount for PM. Always apply to DAMP skin and massage onto face, neck and chest. Move to Oil (step 5) while skin is still damp. Suitable for all skin types.
Full Ingredient List

Ingredients: Citrus Aurantium (Orange Blossom) Hydrosol Water, Organic Limnanthes Alba (Meadowfoam) Seed Oil, Organic Aloe Barbadensis (Aloe Vera) Extract, Cocos Nucifera (Coconut) Water, Organic Golden Simmondsia Chinensis (Jojoba Oil), Sodium Lactate, Glyceryl Stearate,
Squalane, Cetearyl Alcohol, Sodium Stearoyl Lactylate, Glycerin, Glycosphingolipids (Phytoceramides), Purified Water, Lactobacillus (Probiotic) Ferment, Organic Oryza Sativa (Rice) Extract, Organic Centella Asiatica (Gotu Kola) Extract, Palmitoyl Pentapeptide-3, Organic Glycerin, Propanediol, Ethylhexyl Glycerin, Potassium Sorbate, Lactobacillus (Probiotic), Leuconostoc/Radish Root Ferment Filtrate, Cocos Nucifera (Coconut) Fruit Extract, Mixed Tocopherol (Vitamin E), Soybean Oil, Acacia Senegal Gum, Xanthan Gum, Sodium Phytate, Dipropylene Glycol, Phospholipids, Citric Acid.



Pro-Tips

Even if you don't use any of our highly concentrated, non-greasy NIGHT CREAM during the day, add the tiniest bit to under the eye area- no additional eye cream needed. A little works great above the lip too!

Give your complexion a boost by gently massaging your moisturizing products into your skin with small outward circles, stimulating blood-flow and flushing toxins. Then give it another quick mist with your Nourish & Flourish MIST if necessary before applying your Heal & Seall OIL.
PH | Sources

PH 5.4-5.6

Sources:
1)https://www.ncbi.nlm.nih.gov/pmc/articles/PMC6197824/
2)https://pubmed.ncbi.nlm.nih.gov/34596254/
3)https://pubmed.ncbi.nlm.nih.gov/24399761/
4)https://www.termedia.pl/Review-paper-Centella-asiatica-in- cosmetology,7,20289,0,1.html
5)https://onlinelibrary.wiley.com/doi/10.1111/j.1600-0625.2008.00732.x
6)https://pubmed.ncbi.nlm.nih.gov/18492182/
7)https://cosmetics.specialchem.com/product/i-specchem-industry-palmitoyl-pentapeptide-3

Share
View full details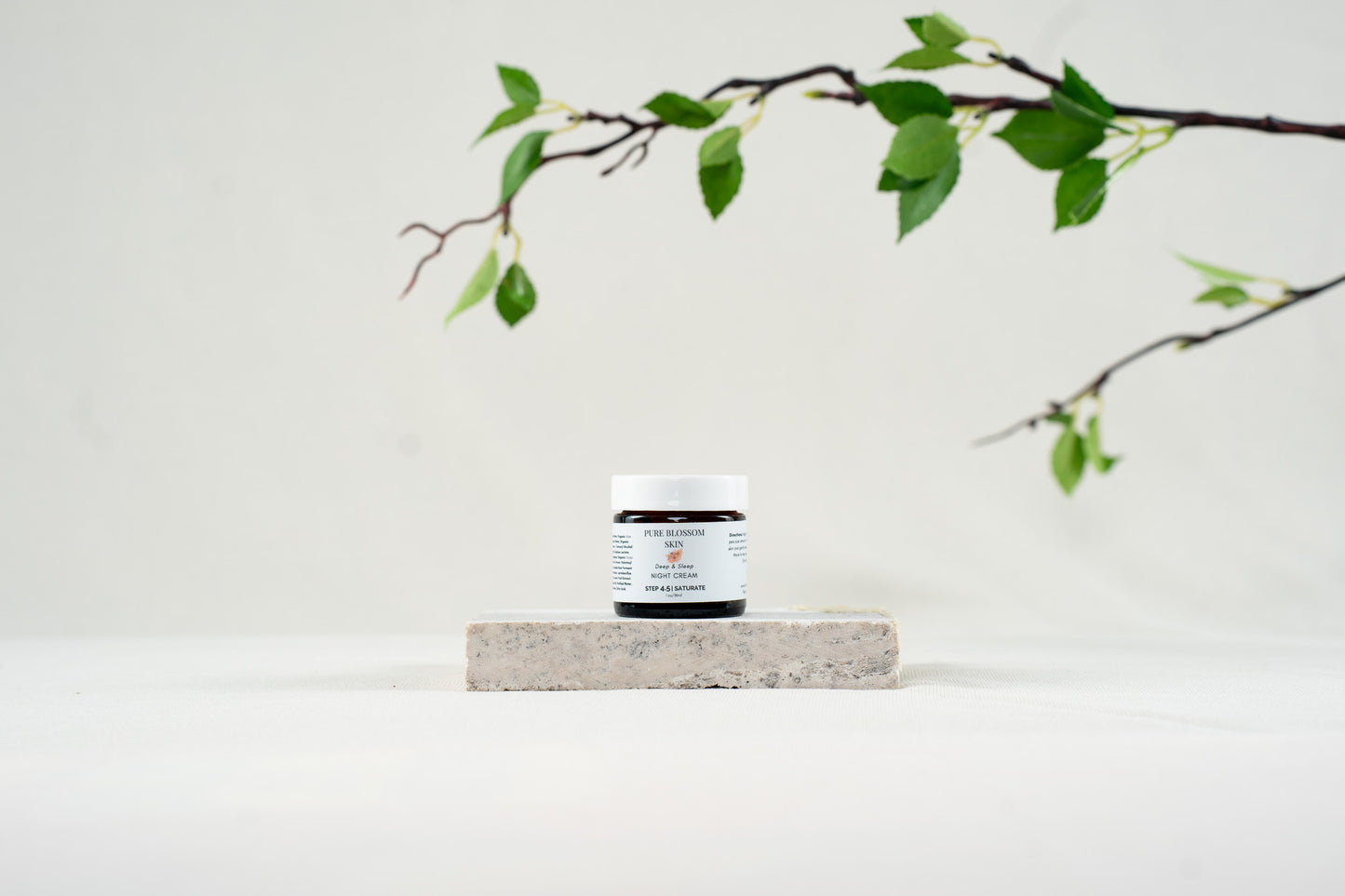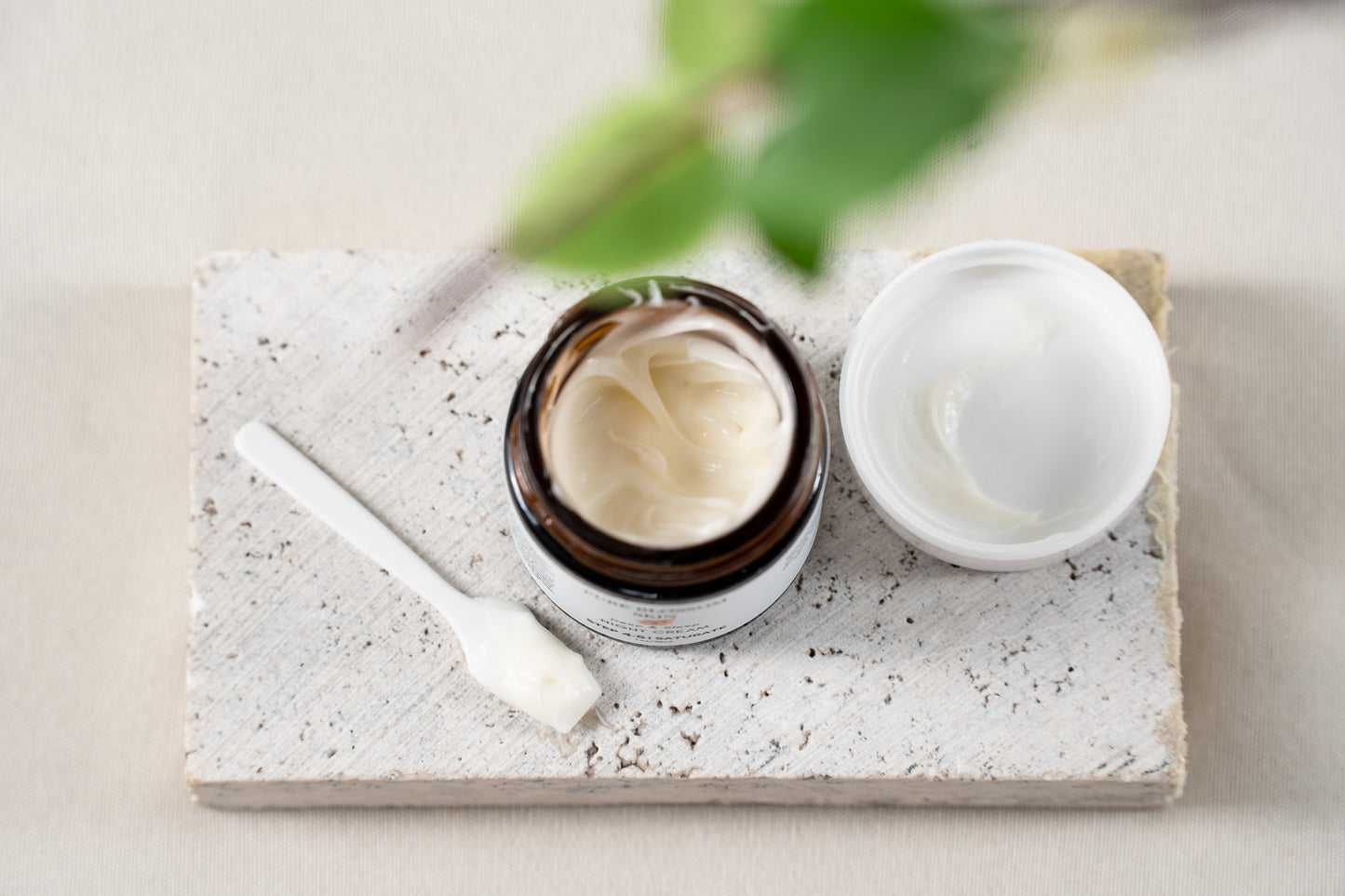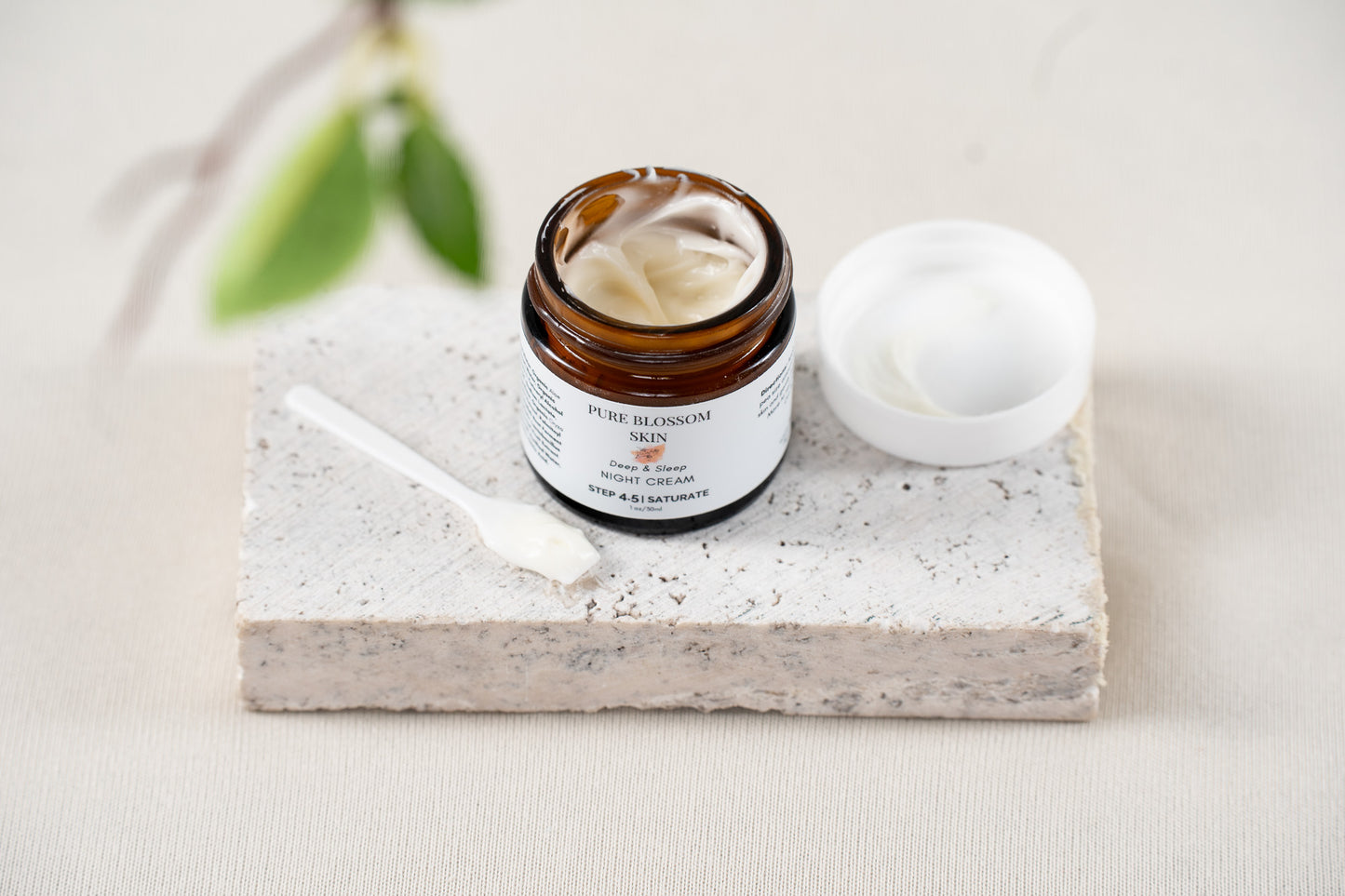 Night Cream
I use this night cream on my face at night and in the beginning, I used an extra amount on my deep winkles; then realized a little goes a long way. I also put the cream on my dry cuticles, and it helps make them look better and feel softer.
You are so right, a little does go a long way! Great tip to use a little on dry cuticles-Genius!
Ps Try a tiny bit as an eye cream during the day- you won't regret it!
Night Cream? More like DREAM CREAM!
Talk about moisturizing! Wow, this is one of my favorite steps. As an Arizona girl, I need all the moisture I can get!! A little hack that I have been LOVING recently is putting a little bit of this product under my eyes in the morning. It helps brighten my under eye area and adds a bit of moisture!
Love it- our Deep & Sleep NIGHT CREAM is a dream cream, and does makes an amazing eye cream during the day! So glad you love it as much as we do- thanks for sharing!
Wonderful addition to the line
I was initially using the standard 5 step skincare system but then I decided to just try it- because I'm obsessed with every other Pure Blossom product lol- and it is a really great addition to the team! It's perfect to lather the skin up at night with to wake up with that super dewy skin. I'm a professional singer and I often rub my microphone against my top lip as I'm singing, causing a small part of it to be dry and sometimes very subtly peel. I started using a bit of this in my morning routine on targeted dry areas and it was like magic! My dry lip is no longer a problem.
We are so grateful you're singing our praises- thank you!! Like you, we love a nice layer of Deep & Sleep NIGHT CREAM all over at night, and for day we love a tiny dab above the lips and the around eyes = perfection. We salute your obsession and thank you profusely!
Night Cream
The Deep & Sleep Night Cream provides the moisture that my skin needs while sleeping. I love that this night cream does not feel so heavy like others I have tried.
We love that you appreciate the non-greasiness of our Deep & Sleep night cream. We recommend a little dab during the day too if your skin runs dry, and it makes an excellent eye cream! xx
Whipped Bliss
At night time I really want to give extra moisture to my skin and this extra night time cream delivers. It's like putting the softest most moisturizing marshmallow goodness on my face. Love love love!
Ohh that does sound dreamy, moisturizing marshmallow goodness. Pro-tip, try a tiny dab as an eye cream during the day- you won't regret it. Thanks for taking the time to review!
Let customers speak for us