Regular price
Sale price
$36.00 USD
Unit price
per
Sale
Sold out
Healing and Protective Skin Oil
 Our Heal & Seal Oil is the stuff of skincare dreams. It hydrates and nourishes masterfully, and is exceptional at sealing in moisture, but this magical elixir does so much more. In addition to the age defying dynamic duo, Bakuchiol Extract (Nature's Retinol) and Tetrahexyldecyl Ascorbate (Vitamin C Ester Oil), we combine Squalane (from organic olives), Organic Golden Jojoba Oil, and pure cold pressed Rosehip Seed Oil, to synergistically rejuvenate and revitalize your skin, diminish signs of aging, and unveil a smoother, firmer, and more luminous complexion. Squalane helps moisturize and protect the skin (1), Jojoba provides nourishment and balances oil production (2), while Rosehip delivers antioxidants and essential fatty acids that promote skin rejuvenation (3). All three oils are quick absorbing, non-greasy and non-comedogenic, and excellent at nourishing and repairing the skin barrier (4), resulting in an enhanced overall skin radiance. We have also added a small dose of plant sourced Isoamyl Laurate, to impart a smooth, silky feel, and help the oils to absorb even quicker.
Like the entire Pure Blossom Skin line , our Heal & Seal OIL also has Orange Blossom, but in an extract form, imparting a sophisticated citrusy, floral aroma. The Orange Blossom is naturally extracted with CO2 for a pure and chemical free scent. This method allows you to extract all the active compounds and vitamins that you would normally get from Orange Blossom (Neroli) essential oil, but without any of the possible irritations. Orange Blossom was discovered in the 17th century and is known for its moisturizing and skin regenerative qualities. If glowing, healthy, vibrant skin is your goal, our Heal & Seal OIL is the magical elixir that will deliver just that!
 0.5 fl oz / 15 ml
Active/Key Ingredients

2% Bakuchiol Extract, 2% Tetrahexyldecyl Ascorbate, 1.5% Vitamin E

BAKUCHIOL is derived from Psoralea Corylifolia Linn., a plant that has been extensively used in Ayurvedic and other traditional medicines, known for its wound healing and skin regenerative properties. It is a phytoestrogen with similar antioxidant effects as Retinol, but without any of the skin irritating side effects (5). Bakuchiol is essentially nature's Retinol, only nicer and way cooler, cause its vegan too. It has been proven (6) to increase cell turnover, stimulate collagen, and to reduce pigmentation, wrinkles, and sun damage. This natural wonder is safe for even the most sensitive skin either day or night.

TETRAHEXYLDECYL ASCORBATE, also known as a THD, is an extremely gentle, yet powerful form of vitamin C, but in an oil form, which allows it to penetrate much more deeply than other forms of vitamin C. THD's fat-soluble formation allows it to penetrate the inner dermal layer, stimulating collagen synthesis from within the skin (7), resulting in a more youthful and resilient skin appearance. It has also shown great improvement to photo damaged skin (8). Offering important protective effects in the aging process of the skin (9), Vitamin E is also added to support the effects of Vitamin C and deliver a more even tone and texture, resulting in a smoother and brighter overall complexion.
Directions

Directions: Always apply to DAMP skin. (Re-wet skin first with Step 3 MIST if necessary). Use TWICE a day. Suitable for all skin types.

AM: Apply 2 drops onto fingertips and PRESS onto face, neck, and chest. Wait about 5 minutes before applying sunscreen (to prevent possible pilling).

PM: Use 4 drops & massage onto face, neck, and chest.


Full Ingredient List

Ingredients: Squalane (Olea Europaea), Organic Golden Simmondsia Chinensis (Jojoba) Oil, Rosa Mosqueta (Rosehip) Seed Oil, Isoamyl Laurate, Psoralea Corylifolia Linn (Bakuchiol) Extract, Tetrahexyldecyl Ascorbate (Vitamin C), Mixed Tocopherol (Vitamin E), Soybean Oil, Citrus Aurantium Dulcis (Orange Blossom) Flower Extract.
Pro-Tips

Our Heal & Seal OIL can also serve as your make-up primer due to the Isoamyl Laurate, which is like nature's silicone- that is why it is important to PRESS it into your skin in the AM, so you do not disturb your serums underneath, and to help create a smooth canvas for make-up. It also helps your sunscreen to set evenly as well. Then PRESS 1 additional drop OVER your sunscreen before applying makeup and enjoy the glow all day!

For PM, gently massage your Heal & Seal OIL into skin with little outward circles to stimulate blood-flow and help flush toxins. Doing this regularly is extremely beneficial for healthy, radiant skin.

Each 0.50 oz bottle has approximately 350 drops, so at 6 drops per day, it should last about 2 months.
PH | Sources

Sources:
1)https://pubmed.ncbi.nlm.nih.gov/35994992/
2)https://pubmed.ncbi.nlm.nih.gov/24442052/
3)https://pubmed.ncbi.nlm.nih.gov/24451077/
4)https://pubmed.ncbi.nlm.nih.gov/24451077/
5)https://pubmed.ncbi.nlm.nih.gov/35674758/
6)https://pubmed.ncbi.nlm.nih.gov/29947134/
7)https://www.jidonline.org/article/S0022-202X(22)00858-2/fulltext
8)https://pubmed.ncbi.nlm.nih.gov/11896774/
Share
View full details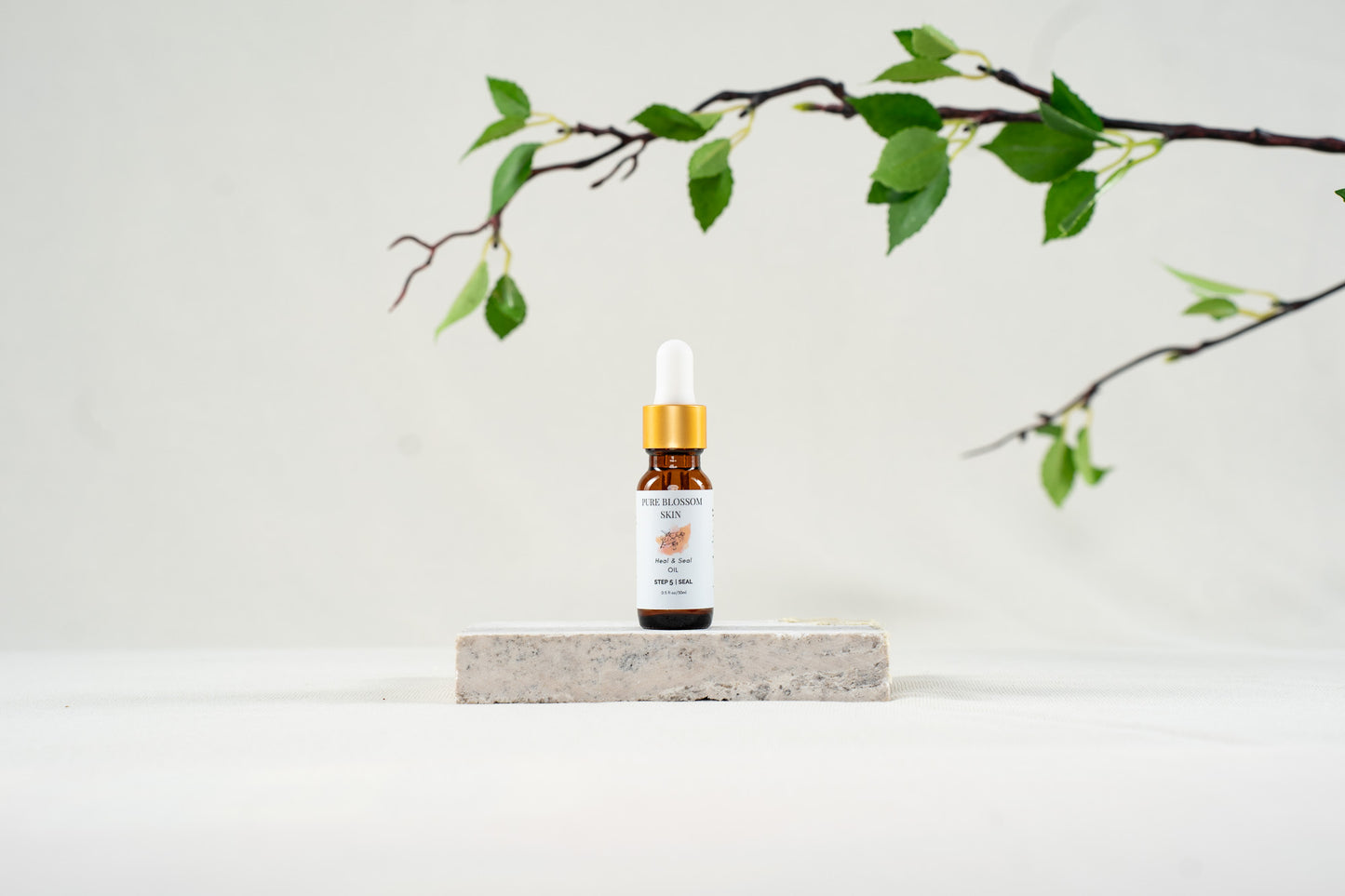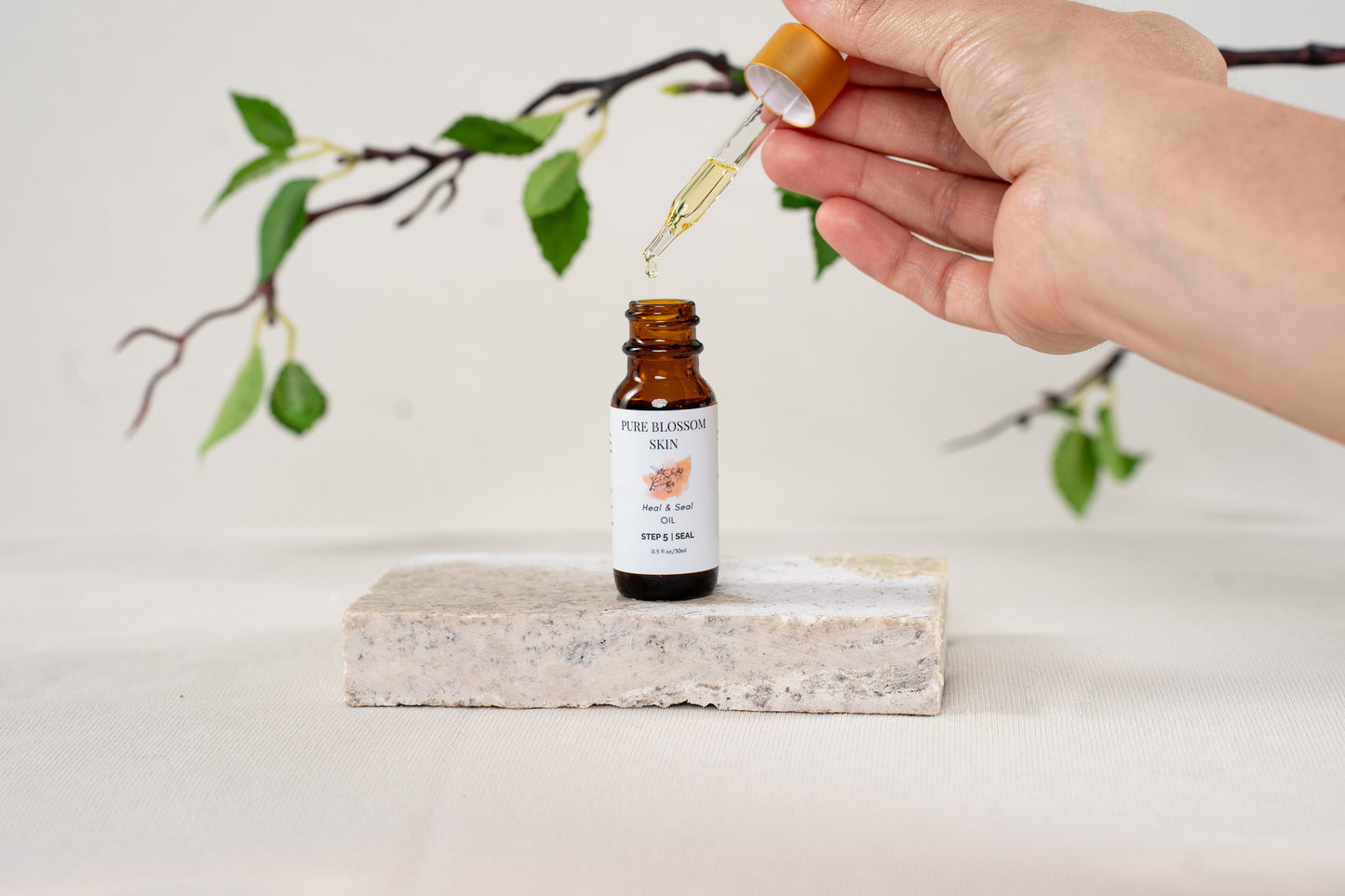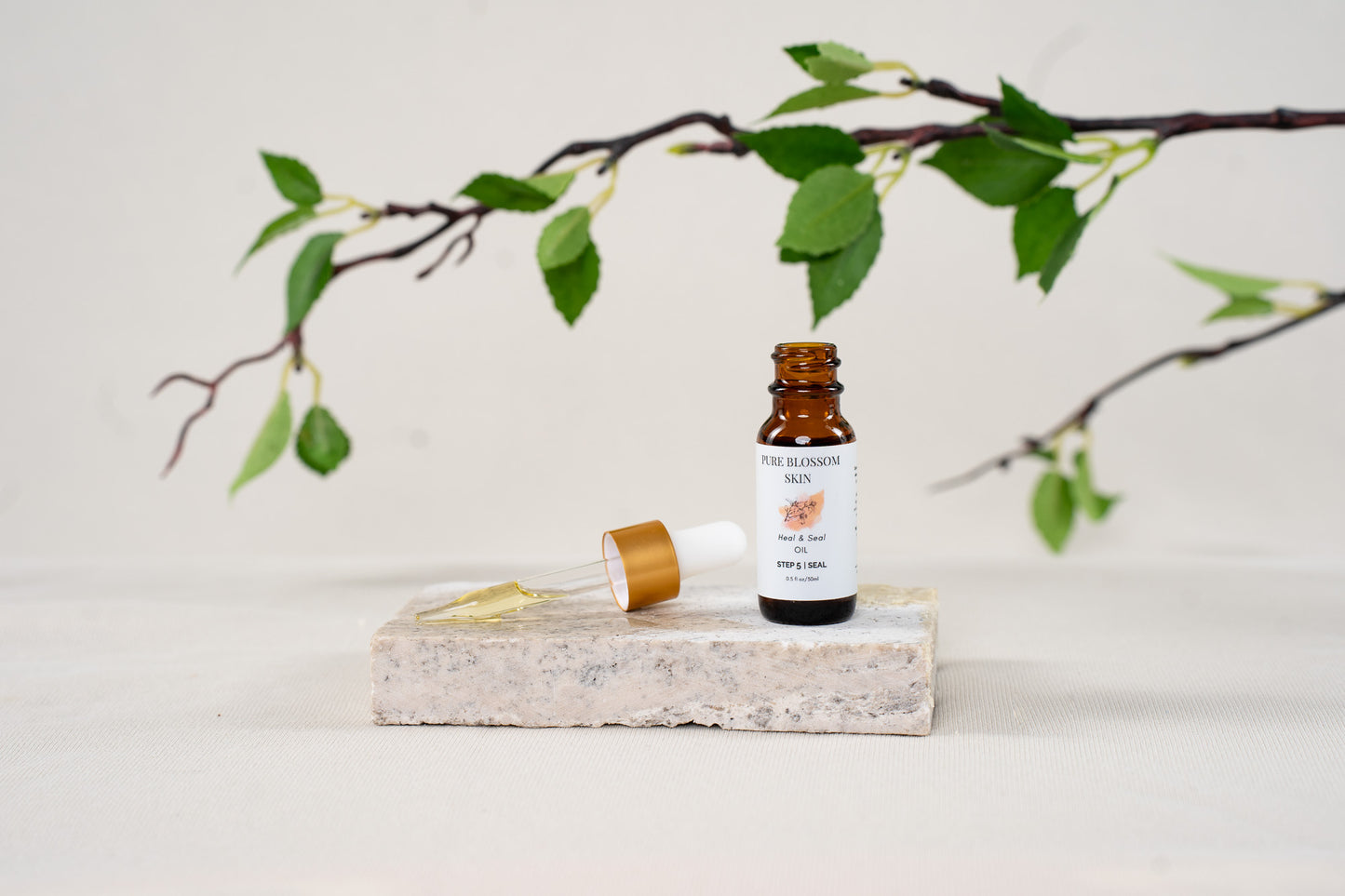 Love this Oil!
I love this oil! I feel like it really helps lock all of the moisture and good stuff in!!! I like to pat this product on to get a glowy look!!!
Nothing beats moisturized and glowy skin- except maybe babies, puppies & chocolate, but it's a pretty close second. Thank you for the love- much appreciated!!
I love this oil! The scent is incredible. I really like how it is lightweight and not too oily it really absorbs nicely. I wear heal and seal oil daily on my face in the morning and before bed. My skin is soft and hydrated. I highly recommend this product!
We love that you love our Heal & Seal OIL, and we appreciate you sharing all the reasons you love it!!
Best Oil on the Market
I don't know how it's possible to use an OIL that doesn't feel GREASY but this stuff delivers. The smell alone makes me want to put it in a bath lol- but I will never waste a drop! It's the perfect canvas to go under my makeup- I stopped using my expensive primer! I get compliments on my skin everywhere I go about 2 months after committing to this system! Forever customer, best skincare products I have ever used!
It doesn't feel greasy due to the Isoamyl Laurate, which is often referred to as nature's silicone. That is also why it makes a lovely, clean make-up primer. We like to use 2 drops under sunscreen, then 1 more drop after sunscreen, for glowing, even make-up all day. Unbelievable that it can be so incredibly beneficial for skin rejuvenation, and so functional too. Thanks for the love!
Spa treatment stuff!
Love this oil serum. I only use this during the dry seasons, otherwise my face produces enough oil on it's own, but I'm almost bummed that it does because this stuff is so nice to put on! It gives you an instant glow and feels so luxurious on your skin. It's a must have during my dry skin seasons!
We love that you love our Heal & Seal OIL. Rest assured that all of the ingredients are non-comedogenic, so even though you have oilier skin, you should not have to worry about breakouts. Even in the non-dry months, you might try just 1 drop around your eyes to help seal in the moisture from your MOiSTURE SERUM- hopefully that will agree with your skin all year long! xx
Cherry on top
You can tell this skin care line is full of goodness there's no fake chemical smell to any of the steps or artificial scent. I normally hate smells of my products but not this step. No I LOOOVEEE finishing off everything with the subtle natural orange essence that is this step. It feels like I finished my spa treatment as it glides on and seals in all the goodness the previous steps did. The best finisher both in feel and smell!!
The perfect way to describe our Heal & Seal OIL, it is the cherry on top-- of a delectable skin sundae. Who knew sundae's could be so good for you? So glad you love it as much as we do. Keep indulging, your skin will thank you, and we thank you too!
Let customers speak for us