Regular price
Sale price
$30.00 USD
Unit price
per
Sale
Sold out
Plant Based Gentle Exfoliating Toner
Our Bare & Prepare TONER packs a powerful but GENTLE punch. Featuring two plant derived exfoliators, Glycolic Acid and Gluconolactone, our toner helps prepare your skin to maximize the effectiveness of our renowned Brighten & Tighten VITAMIN C SERUM. This crucial step effectively preforms a clean sweep to help smooth your path to glowing skin!
Glycolic Acid  boosts collagen production, speeds up cell turnover, and polishes your skin. Gluconolactone increases skin density and elasticity, and helps to repair your skin barrier. These two exfoliators are surrounded by organically distilled botanical hydrosols and extracts, all which deliver additional age defying and skin conditioning benefits that your skin will thank you for. Our Bare & Prepare TONER is your foundational step for smooth, glowing skin while being gentle enough for daily use. 
2 fl oz / 60ml
Active/Key Ingredients

10% Gluconolactone, 5% Glycolic Acid

GLUCONOLACTONE is a PHA (polyhydroxy acid), which is as effective as an AHA, but much gentler (3). Long term benefits include decreased wrinkles and increased skin density (4). It is also a great moisturizer that helps to repair an impaired skin barrier, while also preventing moisture loss.

GLYCOLIC ACID is an AHA (alpha hydroxy acid) that boosts collagen production, speeds up cell turnover, and exfoliates the skin (1). It brightens and polishes skin texture to create a youthful and dewy luster and reduces the appearance of dull and crinkled skin. Glycolic acid exfoliation not only accelerates skin cell rejuvenation, but also allows for deeper penetration of other skin care ingredients (2).

*AHA's may cause what is known as a "purge". It usually mimics a breakout and is temporary. You can help mitigate this by starting slowly (once or twice a week, then working your way up to daily use) with Bare & Prepare TONER, or by using it with a little water on your skin to dilute it's strength. The good news is that it means the actives are working at turning over new skin cells, and ultimately, your skin will will thank you for it. You can easily research more about purging and take comfort in the fact that it is worth it!
Directions

Directions: Apply 1 - 2 pumps (dime size) on clean dry skin. Gently massage into face, neck, and chest until FULLY ABSORBED. Let dry completely before moving on to next step. Use ONCE daily. Suitable for all skin types, but those with sensitive skin should proceed slowly.

*If you have never used an AHA (alpha hydroxy acid), start slowly at once or twice a week, then work your way up to daily use, or apply to wet/damp skin to slightly dilute strength.

*AHA's can cause sun sensitivity, ALWAYS use sunscreen daily*
Full Ingredient List

Ingredients: Citrus Aurantium (Orange Blossom) Hydrosol Water, Organic Aloe Barbadensis (Aloe Vera) Extract, Aurantifolia (Lime) Hydrosol Water, Hamamelis Virginiana (Witch Hazel) Hydrosol Water, Gluconolactone, Purified Water, Arginine, Saccharum Officinalis (Sugar) Cane (Glycolic Acid) Extract, Propanediol, Organic Oryza Sativa (Rice) Extract, Organic Chamomilla (Chamomile) Recutita (Matricaria) Flower Extract, Ethylhexyl Glycerin, Potassium Sorbate, Sodium Lactate, Sodium Phytate, Leuconostoc Ferment Filtrate, Citric Acid.
Pro-Tips

Use 1-2 pumps directly in your hand or 2-4 pumps when using a cotton round. Be sure to wet the round first and squeeze out all excess water, then apply toner to the round. By wetting the round first, it absorbs less toner, keeping more available for your skin. Feed your skin, not the cotton!

Morning time saver- use a small USB rechargeable hand-held fan to speed up the dry down time of the first two steps (TONER & VITAMIN C SERUM). The cool air feels fantastic, and It cuts dry down time in half. (Use for about 30 seconds after applying each of the first two steps.)

Each 2 oz bottle has approximately 460 pumps. At 4 pumps a day (on wet cotton round), it should last close to 4 months. At 2 pumps a day, that's close to 8 months!
PH | Sources

PH 3.3-3.5

Sources:
1)https://pubmed.ncbi.nlm.nih.gov/9563274/
2)https://gethealthyskin.com/ingredients/glycolic-acid)
3)https://pubmed.ncbi.nlm.nih.gov/15002657
4)https://pubmed.ncbi.nlm.nih.gov/15002656/
Share
View full details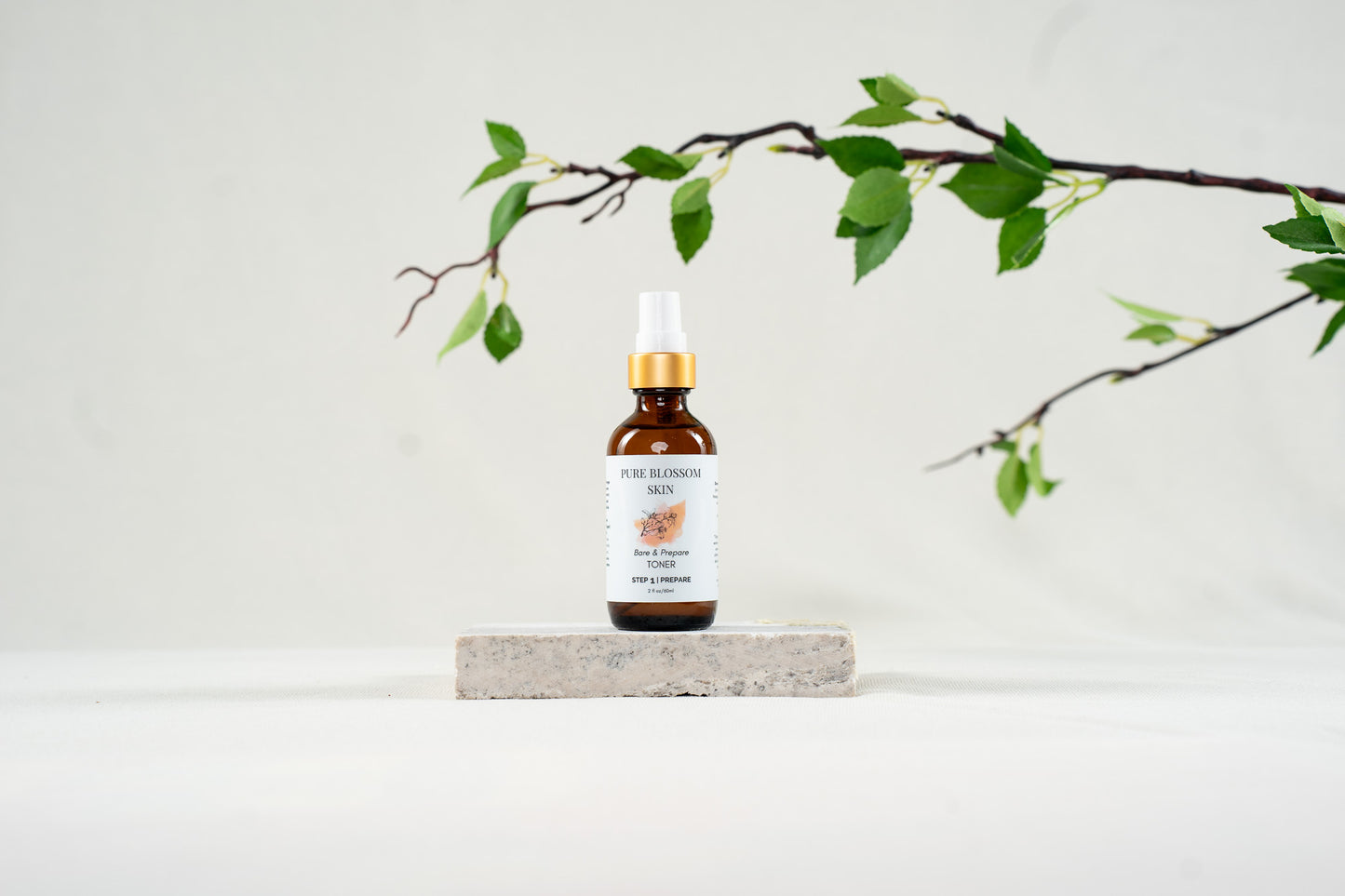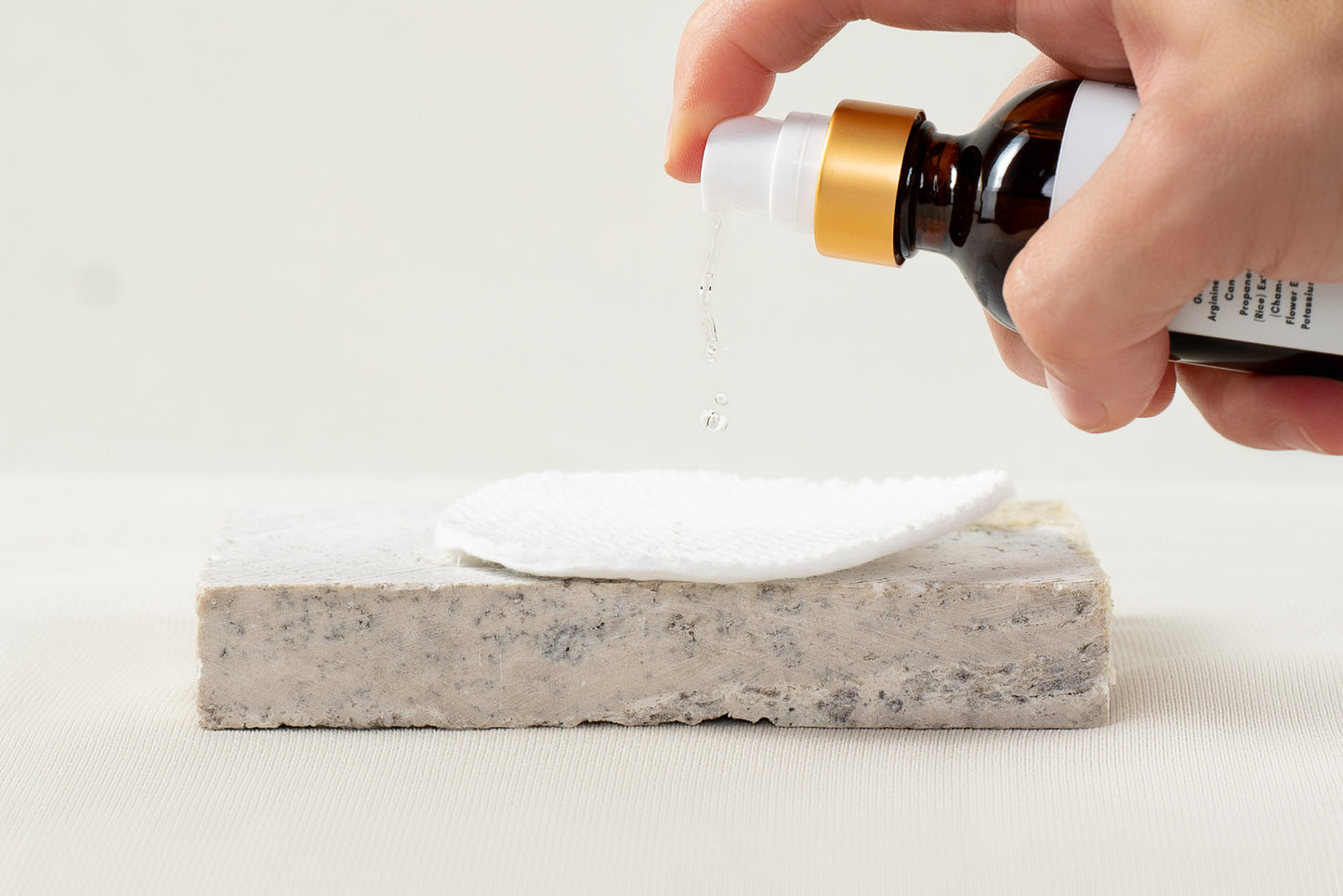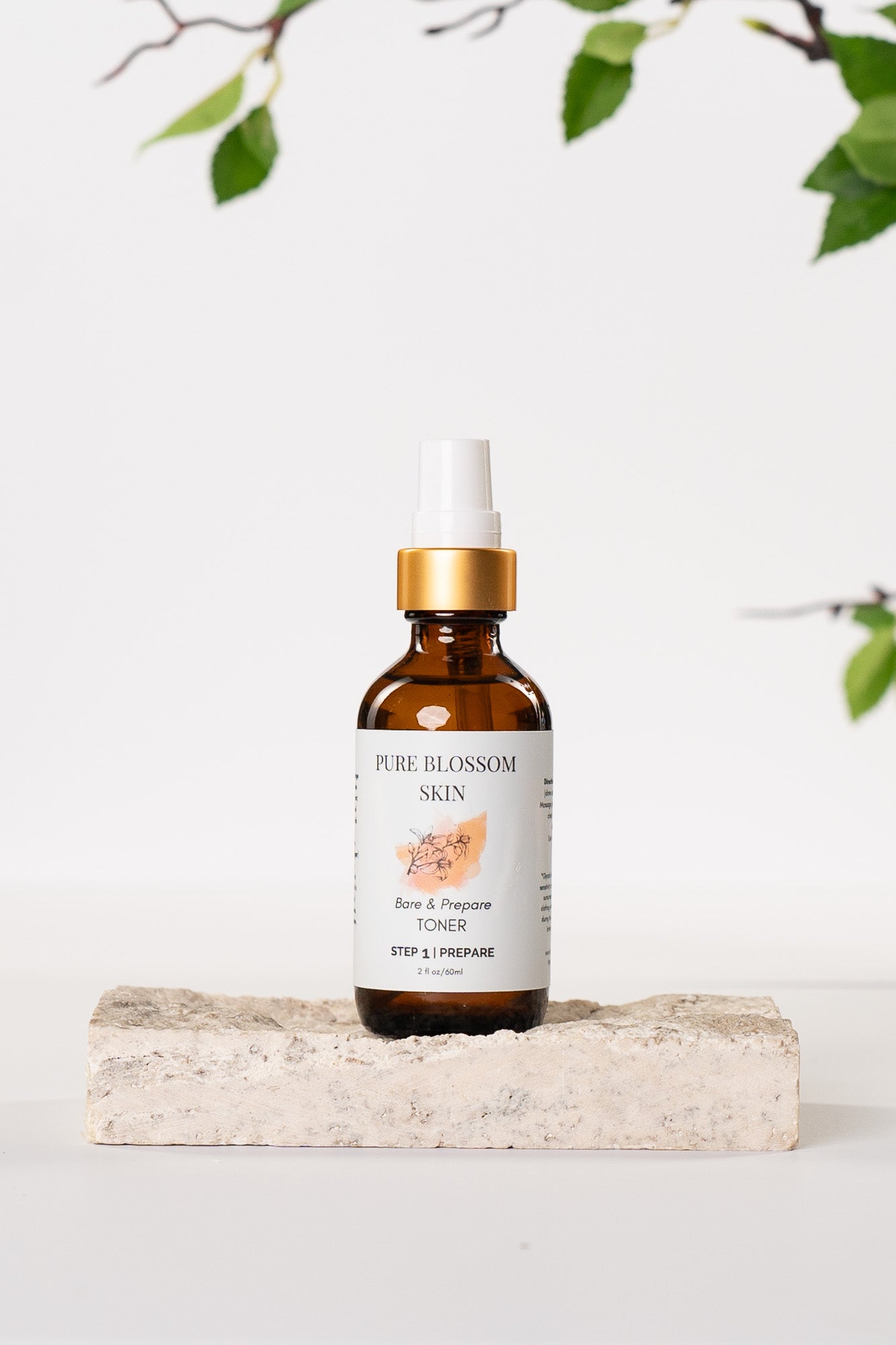 Bare and prepare toner is a wonderful toner for my daily skincare routine it soothes my skin and I don't have dryness or itching. Great for sensitive skin like mine.
We are so glad that our effective Bare & Prepare TONER is gentle enough for your sensitive skin. Thanks so much for sharing!
Best way to start!
This Step 1 toner leaves my skin feeling so clean & eliminates any irritations I've got going on. I've never used a toner that actually felt like it was adding anything to my skin and typically, toners leave me feelIng super dried out.
With 6 little kids at home, I honestly look forward to wash time so I can apply the Bare & Repair toner and enjoy a couple moments to hit reset while I enjoy the cool fresh feeling to start and finish my days.
Great first step to a simple, clean, and effective skin care routine!
Thank you so much for your sharing your love for our Bare & Prepare TONER- we appreciate it! So happy that we can be a little bit of calm in your very busy days!
Bare & Prepare Toner
I have never used a toner before but now I will never skip this step. The bare and prepare toner is very refreshing and invigorating!
Yes it is refreshing and invigorating! Thank you so much for taking the time to let everyone know- much appreciated.
Excellent toner
Some toners dry my skin out, but this one leaves me feeling perfectly refreshed. No dry feeling, I feel clean and any blemishes I may have due to hormones are reduced if not gone by the next day!!! Perfect start to my skin care
We are so happy your skin is so happy- it's why we're here. Thanks!!
SURELY THIS IS A MAGIC ELIXER
I had to work my skin up to be able to use the toner regularly- it initially made me break out a tiny bit as it revealed deeper layers of skin but I trusted the process and ok so glad I did. This stuff lasts for months and it has literally CHANGED MY SKIN!! Customer forever over here!!
We couldn't agree more, it is a magic elixer! We're so glad that you trusted the process- some people may experience a small 'purge' as the old skin cells slough off- it can be very common for some when adding new skin actives to your regimen, but it's totally worth it, as your glowing skin will now tell you!! Thanks for taking the time to share!
Let customers speak for us