Regular price
Sale price
$28.00 USD
Unit price
per
Sale
Sold out
Antioxidant and Vitamin Rich Hydrating Mist
Our Nourish & Flourish MIST is so much more than a natural hydrator. We created a deliciously sublime blend of organically distilled hydrosols, extracts, antioxidants, B vitamins, and electrolytes that both improve and enrich your skin. While most facial mists are primarily plain water, ours is a potent and delectable combination of Orange Blossom, Lime, Pure Coconut Water and Organic Aloe Vera, which help to deliver the superstars: Green Tea Leaf Extract, Niacinamide and Panthenol. 
Green Tea, along with the B Vitamins, Niacinamide and Panthenol, are all well known for their incredible skin regenerative capabilities, and blended together they are truly transformative to your skin. Green Tea is a powerful antioxidant known to rejuvenate dead skin cells, Niacinamide helps to reduce the appearance of pore size and even texture, and Panthenol works as both a hydrator and humectant, helping skin to hold on to moisture. Your skin needs hydration before applying moisture, so why not pack that hydration full of nutritional goodness? Our Nourish & Flourish MIST both treats and hydrates at the same time. It is powerful, concentrated skin nourishment, not just a "mist". We can't think of a more refreshing and beneficial way for your skin to take its vitamins!
2 fl oz / 60ml
Active/Key Ingredients

6% Green Tea Extract, 5% Niacinamide (B-3), 5% Panthenol DL (B-5)

GREEN TEA contains a special antioxidant known as epigallocatechin gallate or EGCG. Scientific studies (1) show that this tea antioxidant is effective in rejuvenating dying skin cells. EGCG effectively works to reactivate the reproduction process of skin cells, giving dull skin a healthier glow. Studies (2) have also shown that green tea helps improve the elasticity in the skin, and it also has caffeine and tannins, which help to shrink blood vessels to decrease puffiness. It is also extremely effective against acne (3).

NIACINAMIDE has been scientifically proven to greatly improve lines, wrinkles, hyperpigmentation spots, texture, and red blotchiness (4). One of the unique benefits of niacinamide as an anti-aging ingredient is that it enhances barrier function. Barrier compromise is common in maturing skin and can contribute to heightened sensitivity and irritation by allowing external insults easier entry into the skin (5). The anti-inflammatory properties of niacinamide are also beneficial for acne-prone skin, while clinically it also reduces pore size and improves skin texture (5). Covering all the bases, Niacinamide both corrects and protects, proving itself to be a very powerful skin age defier indeed.

PANTHENOL is in all living cells and works as both a humectant and an emollient. It attracts water from the environment to your skin, while simultaneously adding moisture, thus keeping it looking dewy and fresh. By significantly increasing the moisture levels of your skin, it also has important beneficial effects on the function of your skin barrier. By decreasing trans epidermal water loss (TEWL) (6), Panthenol helps to maintain optimal moisture levels in your skin, which is essential for preserving it and keeping it youthful and healthy.


Directions

Directions: Use 2-4 sprays across face, neck, and chest. DO NOT WAIT FOR IT TO DRY. Move immediately to moisturizing steps. Use twice a day. Suitable for all skin types.
Full Ingredient List

Ingredients: Citrus Aurantium (Orange Blossom) Hydrosol Water, Citrus Aurantifolia (Lime) Hydrosol Water, Vapor Distilled Water w/Calcium Chloride, Magnesium Chloride & Potassium Bicarbonate (Electrolytes), Cocos Nucifera (Coconut) Water, Organic Aloe Barbadensis (Aloe Vera) Extract, Purified Water, Camellia Sinensis (Green Tea) Leaf Extract, Niacinamide (vitamin B3), Panthenol DL (Vitamin B5), Propanediol, Ethylhexyl Glycerin, Potassium Sorbate, Sodium Lactate, Organic Glycerin, Betaine, Sodium Phytate, Leuconostoc Ferment Filtrate, Citric Acid.
Pro-Tips

To avoid wasting any of your precious mist by spraying it "all over", instead, spray 2-3 sprays directly into your palm, creating a concentrated pool of mist. Put your palms together, then PRESS the mist onto your skin, so all the good stuff goes exactly where you want it to. And bonus, you will probably use less at a time this way too!

Each 2 oz bottle has approximately 375 sprays, so at 2-3 sprays, twice a day, it should last approximately 2-3 months.
PH | Sources

PH: 5.8-6.0

Sources:
1)https://www.sciencedaily.com/releases/2003/04/030425071800.htm
2)https://pubmed.ncbi.nlm.nih.gov/16029678/
3)https://pubmed.ncbi.nlm.nih.gov/16432600/
4)https://pubmed.ncbi.nlm.nih.gov/18492135/
5)https://www.dermatologytimes.com/view/anti-aging-effects-niacinamide
6)https://pubmed.ncbi.nlm.nih.gov/21982351/
Share
View full details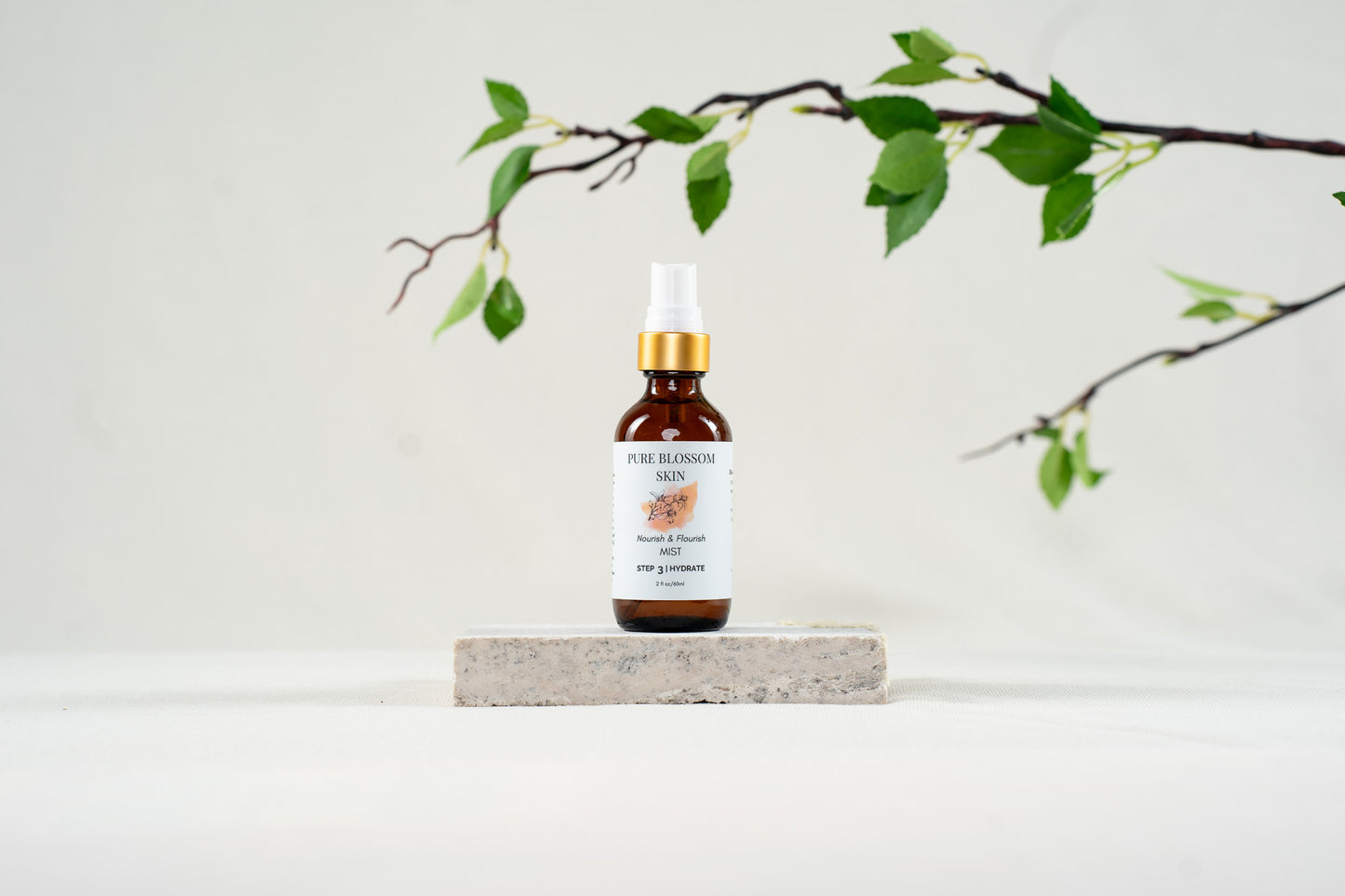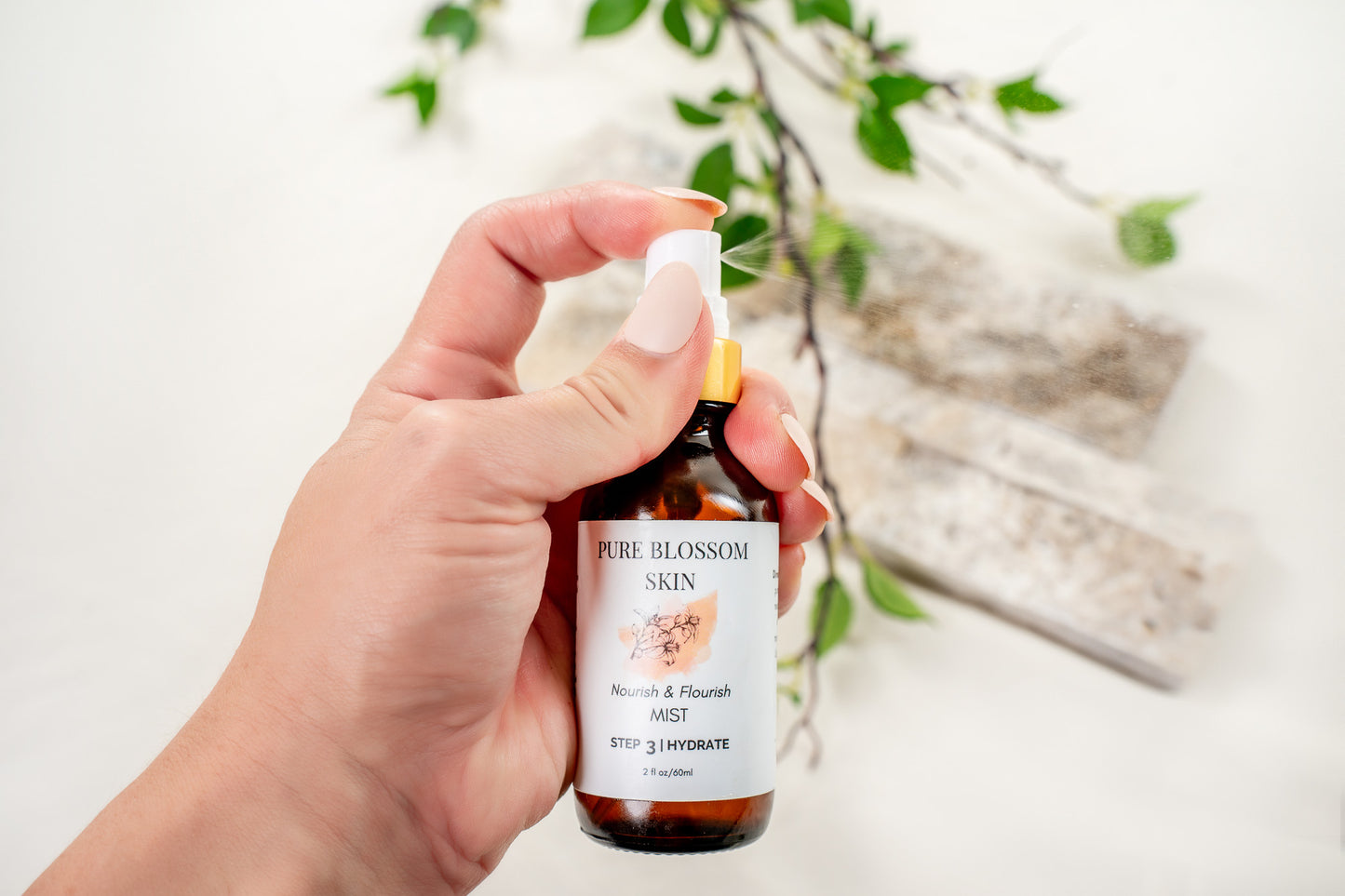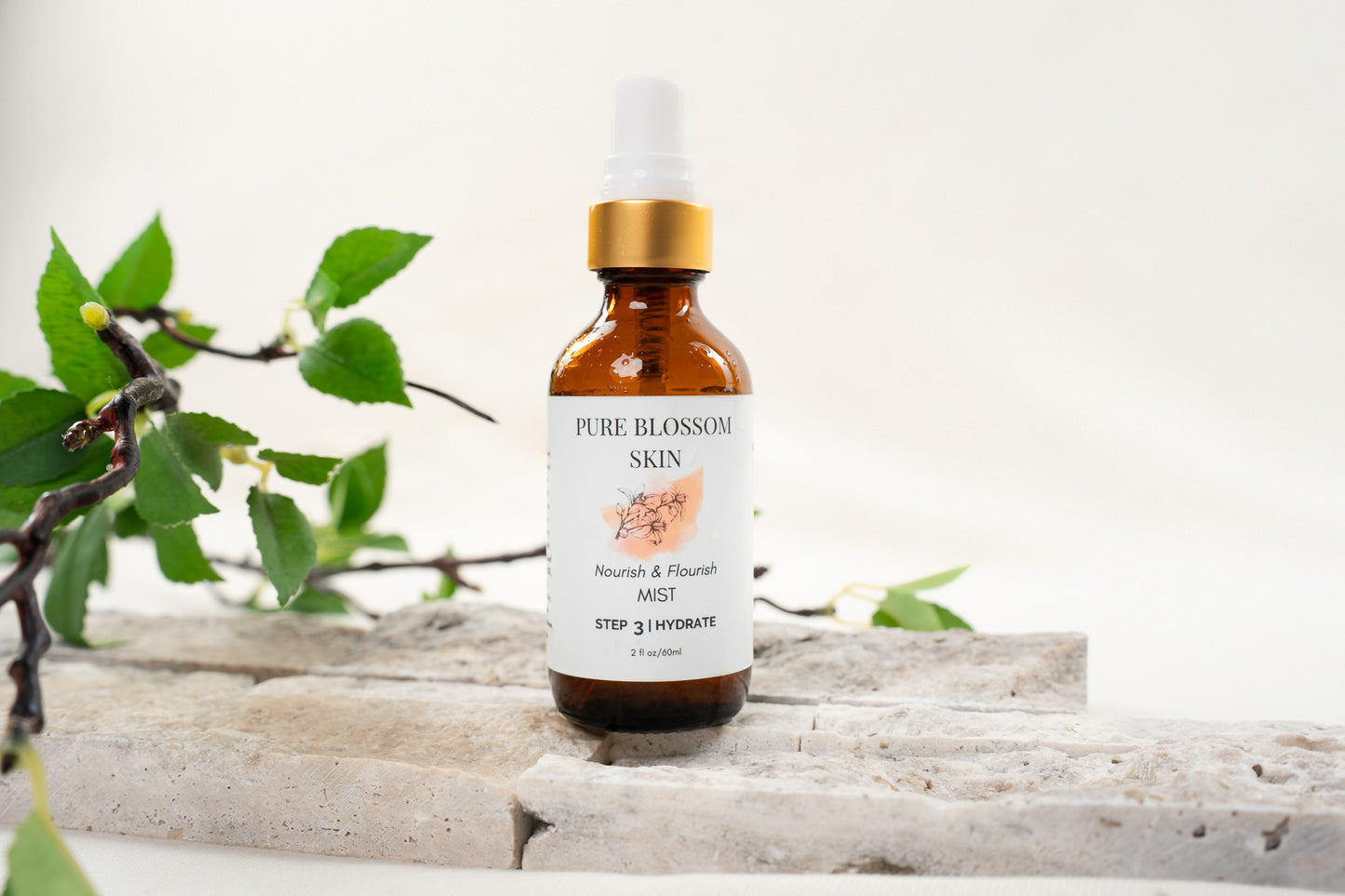 Hydration Love!
I have dry skin and I can never get enough hydration, especially in the winter. I've tried several different brands, and I have to say, I love this product. It has a great mist that is light and dewy. I hold it a few inches from my face and it covers perfectly. I keep it in my purse and spritz before my meetings. It smells good too.
We are thrilled you love our Nourish & Flourish Facial Mist! Such a refreshing way for your skin to take it's vitamins. Thanks for sharing the love! xx
Best Mist
I want to spray this mist everywhere! Not only does it smell so good, but it helps tie all of my skincare together. I love that there are clean and powerful ingredients in each product!!!
You definitely get us- clean and powerful ingredients in each product, that all work together. Thanks so much for taking the time to review- we appreciate it!!
Nourish and Flourish is an incredible product!
I love this product because it is so refreshing in the morning, it wakes you up and feels amazing on the skin! I use this to moisten my face before putting on my lotion and it works so well for that.
We agree, Nourish & Flourish MIST in an incredible product, and hydrating before you moisturize is key to locking in moisture- well done!! xx
Very refreshing!
Love the mist before I apply the moisturizer, it smells great and is very refreshing. But I have to be careful not to get it into my hairline, otherwise there is a slightly sticky residue in my hair.
We are so glad that you love our Nourish & Flourish MIST, but we totally understand that you don't love it in your hairline. The good news is that it isn't the least bit sticky on your skin. To avoid spraying into your hairline, we highly recommend spraying 2-3 sprays into your palm, then press both hands together, then press the concentrated pool of MIST onto your face. No more sticky hairline, and bonus- your MIST will probably last a bit longer too.
We appreciate your review- thanks!
Soooo refreshing
I love this mist. It smells amazing, and the pump sprayer works really well- perfect mist! I end up using a little extra throughout the day so I do go through this step the quickest
We agree, Nourish & Flourish MIST is soooo refreshing!
Pro-tip- try spraying just 2 sprays into your palms, then gently press onto skin so it will last a bit longer. Thanks for the review, sharing is caring!
Let customers speak for us